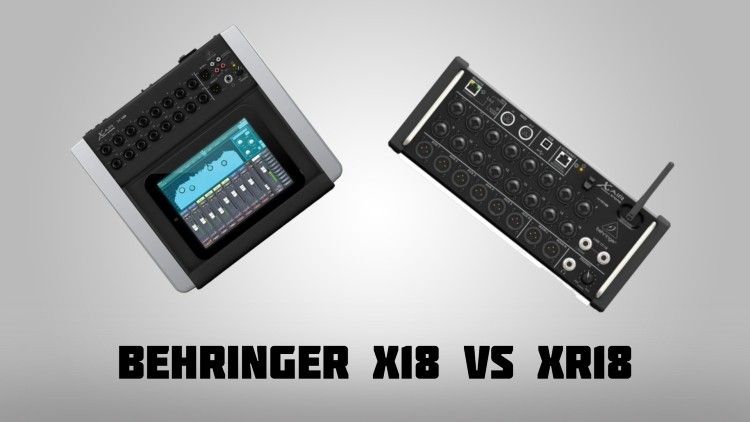 Digital mixing technology has advanced considerably in the past decade, and they have gradually become more integrated with smart devices, sometimes precluding the need for a laptop entirely. The two products that we'll be covering in today's guide are an example of this, as they are both designed to connect to tablets.
We'll be looking at two of Behringer's digital mixers: Behringer X18 and Behringer XR18. While these devices may seem outwardly similar, they have a few key differences.
Here's what we'll cover in this Behringer X18 vs XR18 comparison:
I/O Panel
Size
Ease of Use
Versatility
Connectivity
Price & Value For Money
Ready? Let's jump right in…

Check Price
1. I/O Panel: Behringer X18 vs XR18
Mic Preamps
While the X18 and the XR18 share very similar designs, there are a few key differences between them, and they are mostly centered around the I/O panel.
Most of the mic preamps are similar, as they both use XLR inputs for the first 16. One thing to keep in mind is that the XR18 uses a different connection for channels 17 and 18. While the X18 uses RCA for these two channels, the XR18 is instead equipped with a pair of ¼ jacks.
Aux Out
The aux outs are probably the biggest difference in I/O panel design when you compare these two products, as they each use an entirely different cord for output.
The XR18 is the simpler of the two, as it uses XLR, keeping the connection uniform across the aux output and the preamps. However, the X18 is equipped with TRS aux outs, so if you're considering picking it up, make sure that you have the compatible cables.
Headphone Monitoring
Each of these devices is also compatible with monitoring headphones, though the jacks are in different locations, as the X18 has its outputs split between the front and back of the device.
The X18 features a ¼ output for monitoring on the top surface, near the RCA connectors for channels 17 and 18. It's a little simpler to find the monitor jack on the XR18, as all of the outputs are on the same panel. Once again, it's a ¼ jack located next to the volume adjustment dial.
I/O Panel Winner: Tie

Check Price
2. Size: Behringer X18 vs XR18
Size: Behringer X18
The size of these devices is one of the biggest differences between them, as the X18 is designed to be used on a desktop, and the XR18 is meant for simpler transportation.
Coming in at about 16 x 14 inches and with a weight of 8 pounds, the X18 is a relatively hefty device, and its large size also makes it more susceptible to damage while it's being transported. The one advantage to the X18's large size is the cradle on the surface, which can hold your tablet while you work.
Size: XR18
The XR18 is one of the most compact mixers in its price range, and its small size is a significant contributor to its popularity, as its small footprint allows it to be positioned nearly anywhere.
With dimensions of 13 x 5 x 5 inches and a weight of only 7 pounds, the XR18 is smaller and lighter than the X18, though the difference in mass is nearly negligible. This makes the XR18 easy to position in small rooms without it getting in the way, and far less of a hassle to transport.
Size Winner: XR18
3. Ease of Use: Behringer X18 vs XR18
Desktop
For desktop use, the XR18 is decidedly inferior to the X18, as it simply isn't as comfortable to use with a tablet.
The cradle on the X18 gives you a comfortable spot to keep your tablet while working, and it ensures that you always have quick access to both your smart device and the mixer itself. On the other hand, the XR18 has no provisions for holding a tablet, so you'll likely need a separate cradle for it.
Concert
If you're planning on taking your mixer with you to concerts or events, then you'll benefit immensely from the ruggedness and small size of the XR18.
You can position the XR18 in nearly any nook or cranny where it will fit, and its convenience goes beyond smaller size. The rectangular shape of the XR18 means that it has a much smaller footprint than the X18, ensuring that you can place it on ledges or other areas where it will be unlikely to be disturbed.
Set-Up
Setting up these devices is extremely similar because their internal functions are similar. The first step is to connect the device to your smart device, and this can be accomplished through an ethernet cable, wifi, or LAN, which we will discuss in a subsequent section.
Once the device is connected, you have to install the drivers for it on your computer, and you'll be ready to start using it. This process is the same for both the X18 and the XR18.
Ease Of Use Winner: Tie
4. Versatility: Behringer X18 vs XR18
Versatility: Behringer X18
The X18 is a little less versatile than the XR18 because its effectiveness is heavily diminished if you're not doing your mixing work at a desktop.
The lack of portability and the awkward shape of the device mean that it's suitable for event work. While its compatibility with tablets makes it versatile enough to be used without a laptop alongside you, the X18 is simply not as versatile as the XR18.
Versatility: XR18
In a stunning contrast to the X18, the XR18 is one of the most versatile mixers that we've ever come across, blending portability with a host of interface options.
Like the X18, this model can be used with either a tablet or a laptop, meaning you aren't constrained by the equipment that you have on hand. However, unlike the X18, you also aren't constrained by where you're recording, as long as you have an internet connection to link this mixer to your device.
Versatility Winner: Behringer XR18
5. Connectivity: Behringer X18 vs XR18
Ethernet
Both of these devices can connect through three different methods, with the first being a simple internet cable.
This connection method is the easiest to get set up, as you'll just have to run the cable from the mixer to the device that you're using. Keep in mind that this will typically only work with laptops as most tablets don't have ethernet ports.
Wifi Client
When you configure your X18 or XR18 to operate as a wireless client, it will act like a computer and try to connect to your router or modem.
This is simpler to set up than an access point, and it accomplishes the same thing: allowing access to the network. If you aren't used to tweaking settings in your modem and connecting things manually to your home network, this will be your wireless method of choice.
Access Point
In access point mode, the mixer will act like it is a router, and it will have its own IP address instead of being assigned one.
Most of the time, the benefits of using access point mode are outweighed by the more complicated setup process that you'll have to go through, so we wouldn't recommend this for beginners.
Connectivity Winner: Tie
6. Price & Value For Money: Behringer X18 vs XR18
Price & Value For Money: Behringer X18
One area in which the X18 is superior to the XR18 is when it comes to value for money.
For a slightly more affordable price than the XR18, you get a device that features the same capabilities, just with a different exterior and some slight changes to the I/O panel. If you're trying to save a bit of money on your mixer, the X18 offers more bang for your buck.
Price & Value For Money: XR18
The XR18's only downside is that it's more expensive than the X18, though it's plain to see where the extra money went.
The exterior housing on the XR18 is more resilient than the X18, and it seems to be assembled with slightly tighter tolerances. However, both of these devices have identical performance, and the external differences aren't worth the increase in price compared to the X18.
Price & Value For Money Winner: Behringer X18
Conclusion & Takeaway
To summarize our findings in this Behringer X18 vs XR18 comparison, here are the winners for each category:
I/O Panel – Tie
Size – Behringer XR18
Ease of Use – Tie
Versatility – Behringer XR18
Connectivity – Tie
Price & Value For Money – Behringer X18
Overall: Behringer XR18
If you don't mind spending a little bit more on your mixer, the XR18 from Behringer is an excellent little device that combines portability with impressive performance. Even though the price of the XR18 is a little higher, it features superior build quality, making it likely to last longer than the cheaper Behringer X18.
We hope that this comparison has helped you decide between these two remarkably similar mixers.

Check Price