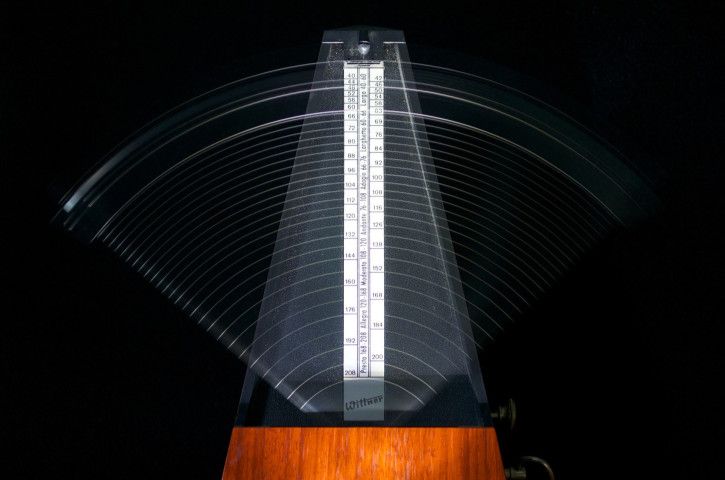 A metronome is your best friend when it comes to keeping on the beat. Ask any successful musician and they'll tell you how important staying at the right tempo is. Finding the best metronome can help you with reliable tempo and improve your playing.
Metronomes are great for solo practice when you don't have a drummer, but they can also really help drummers getting used to playing at a steady beat.
But which metronome to choose? We went ahead and reviewed 8 popular models, and found a winner for every category.
Ready? Let's jump right in…
8 Best Metronomes For Musicians [2020 Reviews]

Check Price
Boss is a name well known to professional musicians. We've chosen the Boss DB-90 metronome as the best overall because of its many advanced features, including multiple voices and rhythms.
The DB-90 is good for professional musicians as well as amateurs. It has a built-in microphone as well as MIDI and ¼ inch inputs. 
The "Rhythm Coach" function teaches you more about playing in different time signatures and staying in time. This coaching function is one of the main reasons that this product is at the top of our list.
There are multiple tones to this metronome, including a human voice. Choose the tone that best fits your learning style or that stands out in your ear while you're playing your instrument.
Unlike most metronomes, the large LCD panel lets you see what you're doing, and there are even sliders and a rotary dial for controlling the tones and tempo. A footswitch lets you start and stop the metronome while keeping your hands free to play your instrument.
The DB-90 might be overkill for some casual musicians, but if you're serious about your music, this could be for you. It has reliable compatibility with MIDI devices and sequencers and can teach you how to stay in time far better.
Pros:
Multiple voices to choose from

Connects directly to drum machines

Inbuilt microphone

Tone generator for tuning

Save settings to memory to recall during performances
Cons:
Big and bulky

Tech and design feels a bit "90s"

Expensive
It's worth mentioning that the Boss range also includes the DB-30 and DB-60, smaller versions of this metronome with less features.
---

Check Price
Metronomes are generally quite simple, but sometimes you'll find one with some extra handy features. The Kliq MetroPitch is one of those.
It's an affordable metronome with all the basic features you need from a metronome as well as a few added extras – including a tuner.
You can set the tempo digitally or with the tap tempo function that lets you tap in the speed you want. The tempo can be anywhere from 30 to 250 BPM. The metronome has a lot of different beat and rhythm options, so you can practice in a variety of styles and not feel stuck.
The tuner is reliable, too. It has a range of A0-C8 so you can tune whatever instrument you like with ease. It also has transposition settings and pitch calibration to get the tuning just right.
The features on this metronome are pretty impressive for its size and price. It's really simple to use, especially when playing simple 4/4 beats, and is a good option for almost any musician.
Pros:
3-year guarantee offered by the manufacturer

Great value

Easy to control the tempo
Cons:
More difficult to control time signatures other than 4/4

Input and output are a little flimsy and cheaply made
---

Check Price
Many classical musicians all over the world have a Wittner metronome in their toolkit. The Taktell Super-Mini is a tiny example. It gives musicians a pocket-sized device that doesn't need any power but still keeps great time.
The mahogany-colored wooden case gives this metronome an olde-worlde feel, and the hinged cover makes it feel like a beautiful antique. Reliable, German construction gives reliable timing even without power. It works using a wind-up mechanism.
As you would expect from an analog model, it's very simple. It ticks along in 4/4 between 40 beats per minute and 208 beats per minute.
Pros:
Can be used away from a power supply

Looks fantastic

Easy to adjust the tempo
Cons:
No digital features like tap tempo

Expensive
---

Check Price
As a musician, you already have plenty of gear to carry around – it's good to get a mini-sized metronome if you can so you don't add extra weight. You can still have digital functionality in a tiny size, though.
The MeIdeal M50 has some simple features. It's not the fanciest in the tones and time signatures that it offers, but it is reliable, and accurate to 1/1000 of a second.
The tempo range is 30-280 BPM. There are five easy-to-use buttons to turn the device on and off and to cycle through controls and tempo. 
A clip means you can attach the M50 to your clothing if you want, and there's a slot for headphones if needed.
This portable metronome is powered with one simple 3V cell battery. You won't need to worry about finding a power source.
Pros:
Tiny and portable

Cheap

Reliable and accurate
Cons:
No option to use mains power if the battery dies

No time signature or rhythm options
---

Check Price
This metronome is made by a brand best known for watches and clocks, so they're all about good timing.
The Seiko SQ50-V is a great option if you're looking for a metronome with visuals. It has an LED light that flashes along with the tempo you've set. This is great for loud gigs, or if you don't want the sound of the metronome to be audible.
This product is simple but effective. There are two tones to choose from and a simple dial to change the tempo between 40 and 208 BPM. Though it doesn't have a tuner, it does have a reference tone that you can use to tune to A or Bb.
At only 4 inches in size, the SQ50-V is super easy to carry around. It has a headphone jack and even a small stand that folds out from the back. It may be utilitarian, but it does a good job.
Pros:
Accurate and reliable timing

LED gives visual representation even during silent practice

Easy to control with 39 position dial
Cons:
No mains power option

No inbuilt tuner

Flimsy stand

It's a bit on the unattractive side
---

Check Price
Korg is a trusted brand for many pianists, guitarists, and all sorts of keyboard and synth players. The TM60BK is another example of a tuner metronome, packing the functions of a tuner and a metronome into one.
The tune and metronome functions can either be used separately or at the same time. It has a range of 30-252 BPM and can detect between C1 and C8 for tuning. This means it can tune a variety of instruments well.
You won't always have to stick to the same rhythm and pattern with this metronome's 15 different rhythm variations. Some may sound better for certain types of music or practice.
This product also has a longer battery life than Korg's previous TM50 tuner, and the LCD screen is easier to see.
The controls are pretty simple. The beat and tempo buttons function like the volume buttons on a TV remote control.
The TM60BK also has tuning rhythm training modes to improve your musical abilities.
Pros:
Affordable

Long battery life

Simple controls

Tuner included
Cons:
Tuning is best if you buy a contact mic separately

No "cent" measurements between whole numbers for BPM
---

Check Price
The Neewer NW-707 allows you to practice with no power supply or battery. Instead, you just wind it up and let it go. It's still reliable and can keep time perfectly anywhere between 40 and 208 BPM. 
The sound is clear and loud enough to cut through when you're practicing your instrument, and the pendulum mechanism also gives you a visual aid. You can choose between 0, 2, 3, 4 or 6 beats for practicing in different time signatures.
This is a traditional metronome design. It's the sort that would have been used before we all had electronics in our setup and can make a cool addition to your practice.
This is also a relatively affordable metronome. If you don't care too much about having digital capabilities or tuning, the NW-707 could be a good option.
Pros:
No need for power, eco-friendly

Reliable timing between 40 and 208 BPM

Pendulum for a visual cue
Cons:
No tuner

Wind-up power can run out during use
---

Check Price
If you want more than just a metronome, check out this option. The Soundbrenner Core is basically a smartwatch for musicians. It doesn't have to be worn around the wrist and you can attach it wherever is comfortable.
The price is higher than the other metronomes on the list because of all its extra features. It includes a contact tuner, decibel meter, and a smartwatch that lets you tell time, and you can even add further apps and widgets to it.
You can really customize your practice with this device. On top of all the included options for time signature, subdivision, and accent variations, you can also tap on the surface get the tempo you want.
There's even a decibel meter function to help you know when things are getting a bit too loud. Then, you can turn the music down to protect your hearing.
Pros:
4-in-1 functionality

Detailed control over the time signature and tempo

Vibrates with the tempo
Cons:
Expensive

Needs to be recharged regularly
---
Metronome Buying Guide
What do you need to know when buying your metronome? What are some key considerations? Our buying guide will help you find the best option for you.
Digital vs Mechanical Metronomes
Metronomes are not a new invention. They actually date back to 1816 when Johann Nepomuk Mälzel patented the device. Then, of course, it was totally mechanical, working like a wind-up stopwatch. 
Nowadays, many of the options out there are digital. This means they come with a lot more features, but they need a power supply.
Wind-up options can be a great choice if you're practicing somewhere without electricity or just don't want to rely on power sources or batteries. However, digital options can include LED lights for visual cues, digital tuners, and much more. They're also often cheaper because they're easier to manufacture in the modern age.
Sometimes an analog model feels nicer sitting on top of your piano or next to your music stand, but the functions it offers are usually more basic.
BPM, Subdivisions and Accents
This can be difficult to get your head around if you're new to metronomes and tempo/time signatures. The BPM is simply the tempo's speed, but accent and subdivisions have to do with the spaces between those beats and which beats are emphasized. 
If you're a beginner and just need to get used to playing at a steady beat, you may not need a metronome with so many options yet – but it could be good to look forward to the future when you might want to play in a wider variety of styles and time signatures.
If you're an advanced musician, you might be looking for more control over accents, which a more advanced metronome like the Boss DB-90 will give you. 
Extra Features
As you can see from our list, some metronomes have handy extra features.
Think about whether a visual cue would be helpful for you. Do you need a flashing LED light to go along with the tempo or a mechanical pendulum for your eyes to follow? This can be good in loud situations or if you're just more visually wired, but it comes down to personal preference.
Many of the top metronomes come with tuners. Both can be packed into a tiny little device to save you money.
The Soundbrenner Core has a vibration feature. Many more "smart" devices like this will probably crop up in the near future, so be on the lookout if that's something you're interested in.
Can't I Just Use an App?
There are metronome apps, but they don't have the same features or reliability as something standalone. Plus, you don't want to get a call in the middle of playing a complex song! 
Apps are okay for basic practicing, but the real deal is far more professional and trustworthy.
Conclusion and Takeaway
If you're looking for a luxury model that costs a little more, we recommend our best overall metronome, the BOSS DB-90. It has rhythm coaching functions and settings for tempo and time signature. It's also compatible with MIDI devices.
Most people will want something smaller and more portable. If that's you, the KLIQ MetroPitch is a good option, with a built-in tuner and the option to clip it onto your instrument. It's compact, but still offers reliable timing in different tempos and time signatures. This is the option for the masses.
On a small budget? The MeIdeal M50 Mini Digital Metronome is a cheap option that still offers steady timing and easy controls.