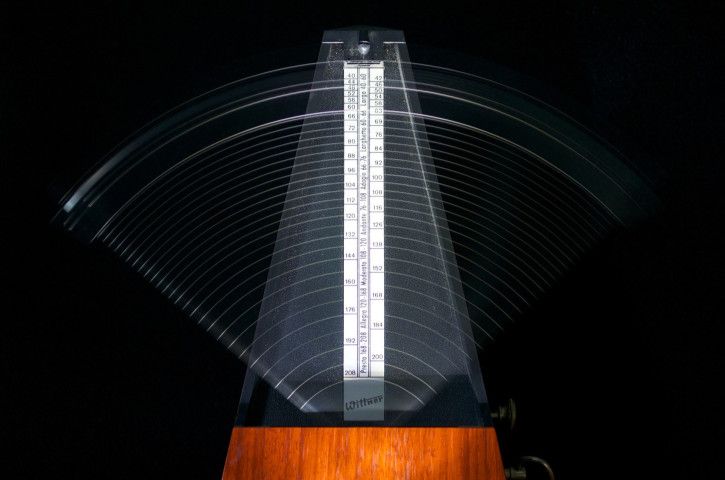 A metronome is your best friend when it comes to keeping on the beat. Ask any successful musician and they'll tell you how important staying at the right tempo is. Finding the best metronome can help you with reliable tempo and improve your playing.
Metronomes are great for solo practice when you don't have a drummer, but they can also really help drummers getting used to playing at a steady beat.
But which metronome to choose? We went ahead and reviewed 8 popular models, and found a winner for every category.
Ready? Let's jump right in…
8 Best Metronomes For Musicians [2020 Reviews]
Metronome Buying Guide
What do you need to know when buying your metronome? What are some key considerations? Our buying guide will help you find the best option for you.
Digital vs Mechanical Metronomes
Metronomes are not a new invention. They actually date back to 1816 when Johann Nepomuk Mälzel patented the device. Then, of course, it was totally mechanical, working like a wind-up stopwatch.
Nowadays, many of the options out there are digital. This means they come with a lot more features, but they need a power supply.
Wind-up options can be a great choice if you're practicing somewhere without electricity or just don't want to rely on power sources or batteries. However, digital options can include LED lights for visual cues, digital tuners, and much more. They're also often cheaper because they're easier to manufacture in the modern age.
Sometimes an analog model feels nicer sitting on top of your piano or next to your music stand, but the functions it offers are usually more basic.
BPM, Subdivisions and Accents
This can be difficult to get your head around if you're new to metronomes and tempo/time signatures. The BPM is simply the tempo's speed, but accent and subdivisions have to do with the spaces between those beats and which beats are emphasized.
If you're a beginner and just need to get used to playing at a steady beat, you may not need a metronome with so many options yet – but it could be good to look forward to the future when you might want to play in a wider variety of styles and time signatures.
If you're an advanced musician, you might be looking for more control over accents, which a more advanced metronome like the Boss DB-90 will give you.
Extra Features
As you can see from our list, some metronomes have handy extra features.
Think about whether a visual cue would be helpful for you. Do you need a flashing LED light to go along with the tempo or a mechanical pendulum for your eyes to follow? This can be good in loud situations or if you're just more visually wired, but it comes down to personal preference.
Many of the top metronomes come with tuners. Both can be packed into a tiny little device to save you money.
The Soundbrenner Core has a vibration feature. Many more "smart" devices like this will probably crop up in the near future, so be on the lookout if that's something you're interested in.
Can't I Just Use an App?
There are metronome apps, but they don't have the same features or reliability as something standalone. Plus, you don't want to get a call in the middle of playing a complex song!
Apps are okay for basic practicing, but the real deal is far more professional and trustworthy.
Conclusion and Takeaway
If you're looking for a luxury model that costs a little more, we recommend our best overall metronome, the BOSS DB-90. It has rhythm coaching functions and settings for tempo and time signature. It's also compatible with MIDI devices.
Most people will want something smaller and more portable. If that's you, the KLIQ MetroPitch is a good option, with a built-in tuner and the option to clip it onto your instrument. It's compact, but still offers reliable timing in different tempos and time signatures. This is the option for the masses.
On a small budget? The MeIdeal M50 Mini Digital Metronome is a cheap option that still offers steady timing and easy controls.