A question I frequently get the most is: "which are the best studio headphones?" and because I teach a lot of audio engineering people always ask me what are the best headphones for mixing .
So to make things a lot easier for everyone I have put together a list of the best cheap and affordable studio monitor headphones that are under $200.
Before we dive right in let's first understand the difference between headphones, particularly studio monitor headphones vs regular headphones. The difference, in terms of sound, ordinary or DJ headphones have a sound that is a bit exaggerated or 'coloured' in audio terms. That simply means that they have a punchier, upfront bass and a boost in the high frequencies.
That is why they also work well in loud environments, like DJ purposes for instance. But professional studio monitor headphones have what's known as a flat sound or natural accurate response across the whole frequency spectrum which makes them really great for audio recording and mixing.
It took a while to get this blog post finished after creating the audio interface post and I believe it was well researched. I had a lot of help from friends, store owners and other audio bloggers as well. Basically I did the best I can to make sure that these studio headphone reviews are as honest as possible.
There's also an amazon button below each studio headphone review to help you get the best price possible.
Also note that these are only closed-back headphones and they're not sorted in any particular order.
1. Audio-Technica ATH-M50x Professional Studio Monitor Headphones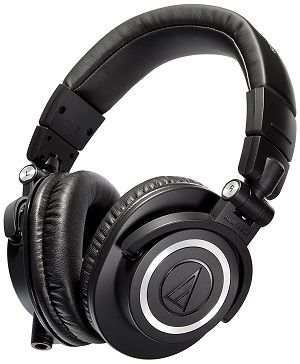 We definitely have to start with the most recommended and best selling professional studio monitor headphone, the Audio-Technica ATH-M50x.
These have a good frequency range, with deep and accurate bass response. The M50x has detachable cable, 90° swiveling earcups for easy, one-ear monitoring and the headband material is strong, yet comfort.
I don't have any complains about the build quality because they're strong and comfortable.
The only problem I have with these headphones is the mid-range. The high frequencies are really crisp and the bass is great.
The lower mid-range just sounds muddy for my liking and there seems to be a hole in the upper mid-range.
These could have easily got a 5 star but they don't have a good mid-range and it's more exposed when you listen to sounds in solo during mixing, you can hear the individual audio parts sound hollow.
Don't get me wrong though, the overall sound is good as a whole and they're really worth the price. So these are highly recommended, the mid-range problem is not a big issue you simply have to get used to how they sound just like any other pair of headphones or speakers.
2. Sony MDRV6 Studio Monitor Headphones with CCAW Voice Coil
The Sony MDRV6 is also the most Favorited Studio Monitor Headphone with CCAW Voice Coil for improved power handling, Over-ear design that provides comfort and an outstanding reduction of external noise.
These have a really wide frequency response of 5Hz – 30kHz. They are great, suitable for recording & mixing engineers who prefer a less pronounced bass and a more prominently enhanced mid and upper mid-range tonal balance.
The mid and upper mid-range is "sparkle", it has great clarity & brightness.
The main problem with these headphones is that they get damaged too easily and fall apart even with good care. The material used is just not strong at all.
So don't expect a long lifespan with these, I guess that's why their so affordable.
However, the overall sound is really natural, clean bass, mid and crispy highs. Really worth the price if you're willing to buy another pair after a year or so.
3. KRK KNS8400 Studio Headphones
The KRK KNS8400 is one of the most underrated professional studio headphone. But these headphones remain true to the character of KRK's class leading studio monitors.
These use the latest in acoustic memory foam technology that ensures class leading performance in both reproduction and isolation.
These have an accurate, natural and wide frequency response.
They're also comfortable, come with detachable cable, they have very low distortion, rotating ear cups for travel & easy storage, replaceable head and head cushions.
Don't expect a big bass sound from these, they have a low bass response, good mid and crispy high frequencies.
But remember, these are for mixing & recording so adding more bass could have probably made the headphones muddy in the low-end.
Which is not good for pro audiophiles. So basically you get a flat frequency response that is not hyped.
Really worth the price and great headphones for mixing audio and recording as well. The frequency response for the KRK KNS8400 is from 5Hz – 23KHz. Highly recommended as well.
4. Marshall Headphones M-ACCS-00152 Monitor Headphones, Black
Get professional studio quality sound straight to your ears. The M-ACCS-00152 Monitor Headphone is a lightweight, slim and great sounding headphone for recording and mixing music. These also have Detachable cord too.
Like most monitor headphones this Marshall has a neutral and flat frequency response.
With low bass, good balanced mid range and sparkling highs. Don't expect too much bass from these, they're for monitoring anyway. They're also not designed to play at very loud levels and the cable is too thin to pass a lot of power.
The cable is a major issue with these headphones, not only the levels but when you put the cable full-in they play 1 cup or very low volume like background music. However when you put the cable half-in both cups play and the volume is high. Which is really weird, are we going back old school?
These are good headphones, I'm happy with the sound quality but the cable needs to be thicker for more power. I also don't like the look, I know it's a Marshall but a modern design will attract a lot of people. These are also not strong as well, the material worn too easily if not handled with good care.
This is an audio recording as well as engineering headphone so I don't see the reason for adding features like the built-in mic and remote for mp3 players. But overall it's a great sounding studio monitor headphone and it is highly recommended, also worth the price.
5. AKG Pro Audio K271 MKII Channel Studio Headphones
AKG Pro Audio K271 are well-designed professional studio headphones with sealed design for lowest signal bleeding when recording vocals or instruments, this helps avoid unwanted spill.
These use closed-back technology for high noise insulation and good sound reproduction.
The K271 MKIIs feature a switch in the headband that mutes the audio just as soon as the headphones are taken off.
Basically, the headphone auto mutes when there is no pressure on the headband. This is a really handy feature in a live or studio environment.
The sound of these headphones is really great and flat but I don't understand why they went for a pretty cheap construction.
The internal plastic parts start falling apart pretty easily and the wires simply get worn fast as well. Not only that but the poor construction makes it hard for the cups to fit well and rest on your head.
This results in a poor sounding low-end and tinny mid-range. This can make things a bit hard when mixing bass sounds or simply want to get a good balance on the low-end of a piano for example.
But the high frequencies (including high mid) sound really sparkling and bright. These are really great for recording music. I still recommend them because if they are well adjusted on the head they can produce a great sound. You'll just need some time getting used to them and how they work especially if you have a small head.
6. Shure SRH840 Professional Monitoring Headphones (Black)
The Shure SRH840 is one of the most well built studio headphones. They have a good frequency response that delivers a rich bass, clear mid-range and extended highs. These have a closed-back, circumaural design for superior isolation in noisy environments.
You're guaranteed the legendary shure durability when you buy these and they also have replaceable ear-cup pads to ensure long product life.
The sound is well balanced and neutral for my liking and that's what I expect from a monitoring headphone. So these can be great for both recording music and mixing as well.
These may not have expensive material but they don't get damaged to easily. They're also not comfortable at all. 1 hour with these is more than enough, so you can't use them for very long sessions without taking breaks.
But overall, they sound really good and they're worth the price, no doubt about that. Not much to say about the Shure SRH840 except that it sounds awesome even though it's not comfortable.
7. Beyerdynamic DT 770 Pro 80 ohm Studio Headphones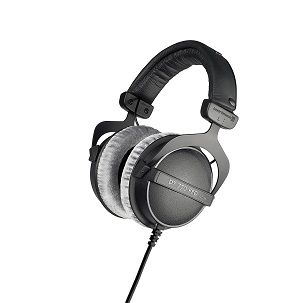 The DT770 Pro is a closed and diffuse-field studio headphone. The headphone has bass reflex technology for improved bass response.
The cushion system allows the DT 770 PRO to be used comfortably for long periods of time. Which makes it really great for long recording and mixing studio sessions.
The soft velour ear pads and adjustable, sliding, earpieces together with a single sided connecting cable ensure listening comfort during extended periods of use. A versatile headphone that offers the listener accuracy, depth and precision.
The only problem most people have with this headphone is the distortion on the left ear, the left ear cup gets damaged pretty quickly. You can actually hear hiss sound at high levels on the left ear cup. I read that hair can get in these and mess them up (this is mentioned by too many people for it to be untrue).
The low-end and mid range sound good for my liking but I found the high frequencies to be a bit colored, they were not neutral. These have a really good sound but they're poorly built and can get damaged quickly. Well taken care of, maybe, they will last longer and still sound good without distortion or hiss sound.
8. Sennheiser HD 380 PRO Headphones
The Sennheiser HD 380 is a closed back professional studio headphone which is built strong and comes with a 2 Year Warranty from Sennheiser.
Compatible with a lot of sound devices, it is lightweight and comfortable which is great for extended listening.
It has reduced comb filter effects and distortion due to E.A.R. (Ergonomic Acoustic Refinement) and Duofol diaphragms.
The HD 380 also have a hole in the upper mid range, this becomes more audible when you listen to a vocal and guitar recording in solo or listening to rich orchestra songs that have a good string section.
These are also not 100% neutral audiophile headphones, I can hear a bit of coloration in the top end.
Overall, they are good headphones for reproduction and recording. The sub-bass, bass and lower mid range sounds good. The upper mids sound hollow, like I already said, and the top end just sounds a bit colored instead of sounding natural.
They have a good price and a decent sound but with some time you can get used to how they sound and produce great sounding audio mixes.
Honorable Mentions
OK, that's it folks those are the best 8 studio monitor headphones. There are other great profession studio headphones like the:
Sennheiser HD25SP
M-Audio HDH-50
Yamaha HPH-MT220
Focal Spirit Professional Studio Headphones
Sony MDR7506

I also recommend these as well but the top 8 stand above them in my opinion.
Leave a comment below if you have any questions or would like me to add a studio headphone that you prefer or highly recommend.