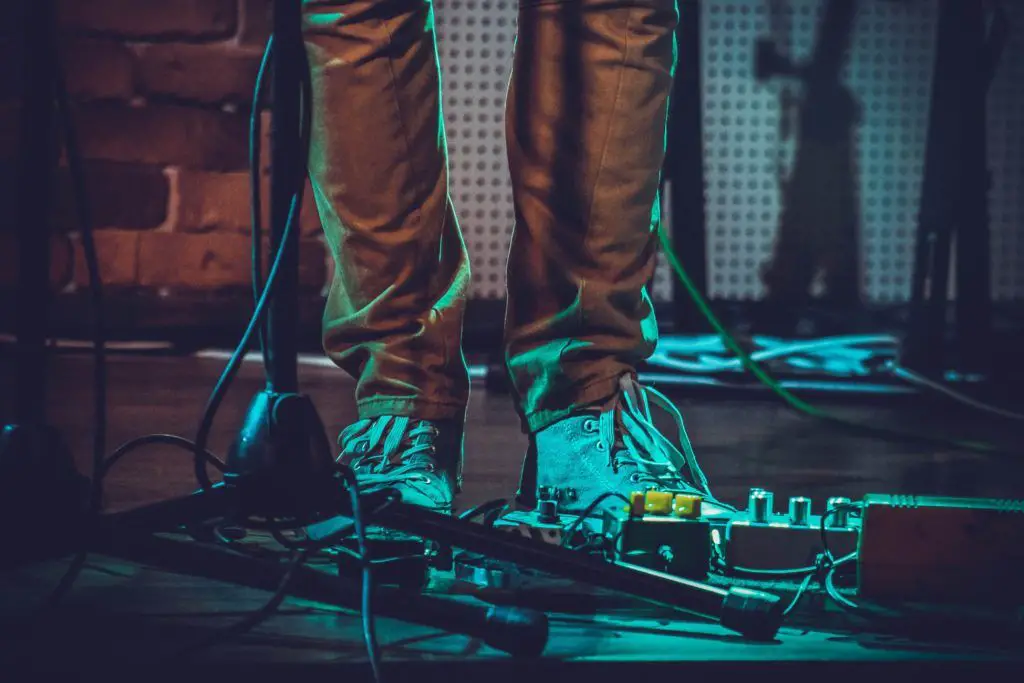 Music technology today can do incredible things for your live performances. A great example: vocal harmonizer pedals, They can make it sound like you have people singing in harmony with you in real-time.
In this article, we've reviewed the 6 best vocal harmonizer pedals currently on the market.
These pedals take the sound from a vocalist and turn it into in-tune harmony that sounds like it was recorded in the studio.  You can use these pedals to enhance your live performances with looping, extra harmonies, and more.
Ready? Let's jump right in…
6 Best Vocal Harmonizer Pedals Reviewed [2020]

Check Price
The "Boss" brand is well-known for its pedals. We've named their VE 2 the best overall vocal harmonizer because it gives you 12 different styles of vocal harmony to choose from. You can find the best harmony style best to go with your voice.
This model's "enhance" button even lets you improve the original vocals – it has a built-in pitch corrector. This helps if you ever go slightly out of tune (as most of us do). There's also an inbuilt reverb and delay for more vocal effects.
Although the VE-2 doesn't have the newest hardware, its functionality can still compete with newer models.  Its USB output lets you record audio onto your laptop, which is good for both live and studio use. The unit has an XLR input for your vocals.
You can use this pedal with an AC/DC adapter or with four AA batteries. Using batteries live can be annoying, but it's an okay tradeoff for this harmonizer's portability.
It's easy to use – just set the key and type of harmony and sing away. 
Pros:
USB recording output.

12 types of harmonizer

Delay/reverb included
Cons:
Older hardware

Needs batteries for portable use
---

Check Price
TC Electronics may not have the same historic popularity as Boss, but they make excellent vocal pedals. The VoiceTone Harmony-G XT is more than a vocal harmonizer – you can use it for many different vocal effects.
One of the best things about this pedal is that you can add two vocal harmonies. You can control these with guitar playing or they can automatically follow your vocals.
There are many doubling effects that give your vocals a rich sound. These are easy to control via the pedal.
This pedal comes with a variety of mix controls, including a compressor, EQ and even a de-esser. These make sure you have maximum control over your vocals and harmony.
There's also automatic pitch correction to help ensure your pitch is on point, without ever having to set the key you are singing in.
Pros:
Add multiple harmonies

Many effects included (like EQ)

Includes balanced XLR and power supply
Cons:
Hard to make changes on-the-fly

Presets difficult to call up
---

Check Price
We've named this minimalistic model from TC Electronics as our budget pick. But, keep in mind that it's hard to find a "cheap" vocal harmonizer – you probably won't find an option under $100.
This harmonizer is simple and more affordable, but still gives you the ability to add  up to two different harmony voices. You can easily use it either live or in the studio.
If you pair this with the TC-Helicon MP-75 mic, you can turn it on mid-song with the touch of a button. Yes, this means getting a specific microphone, but remote on/off could be a handy feature for you.
There aren't any added extras like vocal effects, EQs or reverbs. That's a big part of why it's so affordable. However, this pedal does its job, and some people even use it on other instruments for an interesting effect.
Pros:
Easy controls

Up to two harmony voices

Affordable
Cons:
No extra effects

Remote control requires specific MP-75 mic
---

Check Price
You're probably starting to spot a pattern in terms of the brands that make the most vocal effects pedals.
If you're okay with spending a little bit more to get extra features and reliability, the VE-500 from Boss could be a good choice.
This pedal is a bit bulky, so it's not the most portable option. However, it has the excellent build quality we expect from Boss – and it also has a huge number of effects and clever features.
You can control the pedal with your feet while you play with the stompbox feature. It's easy to use these bypass controls without taking you away from your music. 
The automatic harmony and pitch correction algorithm produces a natural and organic sound that some vocal harmonizers do not.
You can use nine different effects at once, which is still just a part of the VE-500's included effects. There's delay, reverb, distortion, EQ, and even a filter and vocoder for a "talkbox" style effect. You can also use the guitar input to control this effect.
This pedal definitely feels professional and high-quality, and though the cost is a bit higher than some of the other harmonizers, it's worth it for all those effects.
Pros:
Loads of inbuilt effects

High fidelity audio processing

Easy foot pedal controls
Cons:
---

Check Price
Digitech is a major manufacturer of guitar effects pedals, and the VLFX is their offering for live vocals. This processor is especially useful if you want to create a sound with effects that you can control on stage.
The harmony effect sounds pretty natural – you don't have to worry about a 'digital' sound that you don't want on vocals. It's also easy to control in real-time and with presets.
Presets are one of the best (and worst) things about this pedal. It includes preset management software, which lets you keep the exact settings you like to use over and over again.
You can easily call the presets up live. However, the compatibility isn't amazing and some modern computers don't recognize the software.
The VLFX comes with a lot of effects, like pitch correction, distortion, modulation, delay/reverb, and a compressor. There's also a system in place for rejecting feedback.
A 70-second loop pedal also opens up a whole world of new and exciting vocal harmony effects.
Though many of the features are good, we've found that this vocal harmonizer is a little expensive for what it is. There may be better value for your money elsewhere.
Pros:
Good choice of effects

Natural harmonies
Cons:
Software not compatible with all modern computers

Expensive for what it is
---

Check Price
This TLC option  focuses more on presets and stompbox control. It's arguably the best choice if you're a guitarist and vocalist, because you can easily make changes on the fly while you're playing. Singer-songwriters, take note.
The huge amount of effects and presets inbuilt is fantastic. There are over 200 in total, and some are even inspired by specific artists. You can sort these by genre to find the most appropriate for you.
The pedal has something called "HardTune" that is designed to automatically detect the key and then adjust, so you don't have to set the key manually. RoomSense mics also help to pick out the key of the music being played to set the pitch of the singing and harmonies.
VLOOP is also included, which means you can loop guitars, vocals, and harmonies. This is easy to control via feet with the stompbox while you're playing.
Unfortunately, it's not as easy to change the effects on this harmonizer as it is on some of the other pedals listed here. If you're happy just cycling through presets (and there are loads of them), this won't be an issue.
But if do you want to change nuanced details of the sound, then the VoiceLive Play might not be the best for you.
Pros:
Tons of presets

Easy to control via feet

Excellent, long looping function

Automatic pitch detection
Cons:
Not easy to create and alter presets

UI design leaves a lot to be desired
---
Best Vocal Harmonizer Pedals Buyer's Guide
What to look for when choosing a vocal harmonizer pedal.
Key Tracking and Pitch Detection
Lots of the best vocal harmonizer pedals offer automatic tracking and pitch correction. They're great features to have, but if they're unreliable, then it sounds like you can't sing in tune. It's good to go for a model with the option to set the key or scale manually rather than relying on automatic detection.
Most of these models boast about their key tracking. It's a good idea to check out the included videos to see if you like how it sounds. If your pitch and key tracking go wrong, then the harmonies may sound unprofessional.
UI and Controls
How do I control my vocal harmonizer? If a pedal doesn't have a user-friendly interface, you'll get frustrated pretty fast.
Many of these pedals are "stompbox" designs. This means that you can control them with your feet. If you're going to be playing an instrument at the same time, this is important for you. 
The user interface is even more important if you have a lot of presets and effects. You can get lost easily if things aren't laid out in a way that is easy to control. It should be easy to make presets and call these back during performances, especially if you have multiple songs in your set that need harmony effects.
Voices
How many voices can you add? A lot of the best harmonizers just add one extra "voice" to the sound. Some add two. This choice depends on how thick of a sound and how many effects you want.
The TC Helicon VoiceTone Harmony-G XT Vocal Effects Pedal Bundle is an example of a harmonizer that can add multiple harmonies. You won't sound like the Beach Boys instantly, but you will definitely have a more interesting, layered effect to work with.
Some harmonizers also have a more "masculine" or "feminine" sound. If you have a preference for which sound you want, then this can be vital in deciding which harmonizer to buy.
Multiple Effects
Many vocal harmonizers build in lots of effects. In fact, many of the models on our list are actually multiple vocal effects processors. Harmonies are just one of the effects that can be added to the vocals.
In a studio environment, it's not always vital to have extra effects. Most DAWs have inbuilt effects and you can just add the effects in during the mixing process. Of course, in a live environment, these effects need to be added…well, live.
Some vocal effects sound a bit "out there" if you put in too much. Popular vocal effects include reverbs and EQs. If you use them subtly, they can create a richer, sweeter vocal sound that cuts through the mix better. 
In a live environment, making these changes yourself can be tough, but if done right, it really adds to the overall sound.
Some of the effects included in many of these harmonizers are reverb, delay, EQ, and compression. You can find more effects like distortion in the Digitech VLFX Live Performance Vocal Effect Processor. Distortion is not commonly used on vocals, but you may want to experiment.
Looping
Live-looping is a technique that many solo performers use. It lets you play something in the background, like a bassline or backing vocals, which creates layers and a more interesting sound. Many vocal harmonizers include a looper function.
Looping isn't essential, but it can add another dynamic to your performance. 
Price
Price is bound to play a part in your decision. You probably won't find anything decent under $100, but the top end of the market is $300-500.
Conclusion & Takeaway
Two brands lead the way with vocal harmonizers: TC and Boss.
The BOSS VE-2 Vocal Harmonist Pedal is what we recommend for most musicians. It has 12 harmony modes, which gives you way more choices for harmony sound than most pedals have. It has easy controls and even extra effects some harmonizers exclude, such as reverb and delay.
If you have a higher budget, you might want to upgrade to the BOSS VE-500 Vocal Performer Effects Processor Guitar Pedal. This adds some extra effects such as distortion and reliable automatic pitch correction and gives you some more options for altering your voice.
There aren't any "ultra-cheap" models out there. For a budget pick that gives you two reliable voices and easy controls, we recommend the TC Electronics Singles VoiceTone H1. It's a good choice if you just need to add one or two harmonies to your voice and aren't worried about not having the extra effects.