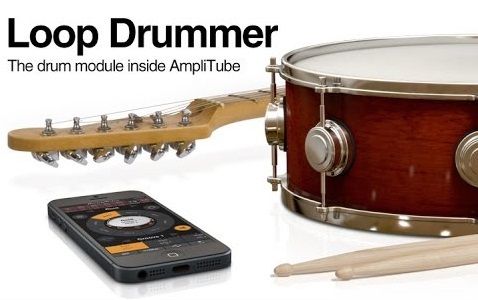 IK Multimedia have just announced the new Loop Drummer 2 which comes with the new version of AmpliTude for iOS. The new version comes packed with grooves in all major genres including Electro, Rock, Country, Blues, Punk, Pop, Funk, Metal, Jazz, Reggae and Latin.
The new Loop Drummer 2 is like having your personal session drummer. This is versatile and there's a lot of tricks you can do to make your drums sound like a live performance. Its unique remix feature allows you to build the arrangement yourself or it can automatically generate a full length drum session with intro, fills, alternate beats and endings.
It can also be used for jamming. There's a lot of stuff you can do with this tool, it's not just a loop library. This is a great product for all AmpliTude users, you'll have a personal session drummer in your pocket.
Top Features
Export drum sequences to iOS Clipboard or via File Sharing
Syncs automatically with AmpliTube recorder
Loop-based drum module that can be opened from inside AmpliTube
Remix button intelligently generates unique drum sequences from the loops in the Groove
1024 loops available in a variety of musical styles
Audio from Loop Drummer appears as a separate audio channel on the AmpiTube recorder
Loops change tempo to match Loop Drummer's tempo setting
Timeline-style arranging of drum parts
Mixer section allows for independent drum volume adjustment and drum track soloing
Set custom-length looping sections
Watch the video below for a more detailed review.
Loop Drummer 2 – Your Personal Session Drummer Inside AmpliTube