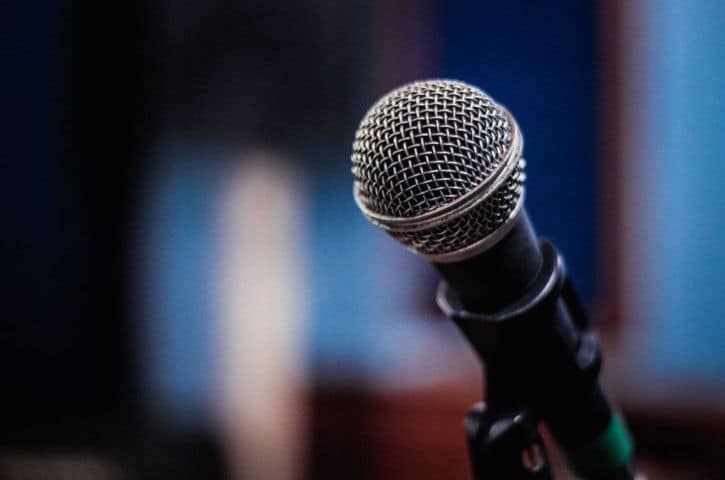 Finding a good, cheap recording mic can be intimidating, especially when prices range from $20 to $20000.
Luckily, we've rounded up 8 of the best cheap mics and reviewed them for you.
Whether you're on the lookout for your first home studio microphone or just looking to add another microphone to your arsenal, these are tried and tested mics that will help bring your music to life.
Ready? Let's get started…
Top 8 Best Cheap Microphones Reviewed

Check Price
The Shure SM58 is a legendary microphone. Professionals in studios and venues around the world consider this mic a standard tool. Nearly all studios own an SM58. It has been the weapon of choice for many artists for years and it still dominates the market today.
The SM58 is a dynamic cardioid microphone that shines in capturing voice, as well as capturing amps, speakers, and other loud sources. It's incredibly sturdy (some say indestructible), which makes it a good option if you move around a lot.
The Rolling Stones, U2, Slipknot, Beyork, and plenty more artists have recorded hits using the SM58. You may be wondering, is this too good to be true? An industry-standard mic for less than 100 bucks? The answer is, it's really true.
If you're searching for a cheap mic that is vocal-oriented but can also perform amazingly well with other sources, for under $100, the Shure SM58 is a no-brainer.
Pros:
Clear sound

Rugged build

Can be used on a variety of sources

Costs under $100

Excellent for live performances
Cons:
---

Check Price
The SM57, just like the almost identical SM58, is another industry standard mic. You can get it for a dirt-cheap price tag and use it in multiple applications. So what's the difference, you might ask? Well, not much.
The SM57 is also a dynamic cardioid mic. It's often used by engineers to mic snares, toms, or amps, and some even use it as a vocal mic. Only a few people would choose the 57 over the 58 for vocals, but still, their sonic characteristics are almost identical.
A few differences between the two are the mic cap and thinner body. The capsule is, however, exactly the same as the 58. Although the two are so similar, the 57 works slightly better as an instrument microphone.
That said, it's more than capable of capturing vocals in the studio and also performs great in live situations. You can't really go wrong with picking one over the other.
Pros:
Great on drums

Great on amps

An industry standard at an affordable price
Cons:
The mic cap feels a little flimsy

No on/off power switch
---

Check Price
Moving on from dynamic mics, let's take a look at the Audio Technica AT2020. The AT2020 is a condenser cardioid microphone, and it has held its own in the market for quite a long time. The quality you get for this price makes it a great option if you're looking for an excellent vocal mic on a budget.
The AT2020 is primarily a vocal microphone, and it's a good one. As a condenser microphone, it sounds much more detailed than one like SM58 – however, the more you drive it, the more ambient sounds you'll hear.
It also boasts a noise level of up to 20db SPL, meaning it can take on very loud sources. This makes it a great all-rounder for your home studio setup.
The AT2020 has an excellent overall sound and gives you good results with many different voices. 
Pros:
Great sound for its price

Hi-pass filter switch

Looks good

Versatile
Cons:
No shock mount

Picks up ambient noise when driven

Needs phantom power
---

Check Price
A best-seller at this price point, the Rode NT1-A is still a relevant microphone at these price points. Coming in at just shy of $200, the Rode NT1-A is a great mic if you're looking for a good and cheap condenser.
The NT1 has a cardioid polar pattern which helps block out noise from the back of the mic and gives you a clear vocal sound. It's a larger microphone that looks stunning, but it is a bit heavier, so you need a sturdy mic stand to hold it up properly.
The NT1-A comes with a pop shield, a case, and a shock mount. That's pretty much everything you'll need. You also get a 20-foot XLR cable and a DVD with recording tips in this package.
The Rode NT1 has been a bestseller since it arrived on the scene in the '90s, and rightly so. The fact that it comes with a shock mount, XLR cable, and pop filter makes it ideal for a home studio. This option gives you great bang for your buck at this price point.
Pros:
Build quality is excellent

Price

Comes with accessories

Cardioid
Cons:
---

Check Price
You might have heard of this brand while browsing the internet for the next great cheap microphone. The Samson C01 is, in fact, a great cheap condenser microphone. It performs well with almost anything you put in front of it, but it really shines when recording vocals.
The C01 has a bright tone with a big sound. Having said that, it also has more ambient noise than its rivals. This may cause problems if the singer being recorded has a quieter voice.
With this mic, there's a hardshell case included with molded foam that keeps your mic safe when not in use. The case also comes in handy when moving the C01 around. The mic comes with a swivel mount as well – but if you want a shock mount for this specific model, you have to purchase it separately. 
We don't love the looks of this mic, and it doesn't have a pad switch or low-cut switch. It also requires phantom power for it to work.
But, getting past the looks and the lack of a shock mount, the C01 is a terrific mic for the price and is definitely worth looking into.
Pros:
Cheap

Comes with a hardshell case

Good sound
Cons:
Favors the high frequencies a lot

Doesn't include a shock mount

Could look better
---

Check Price
AKG has been known as a reputable brand among musicians and engineers for a long time. The AKG Perception 220 (or P220) is designed in Europe and built in China with the goal of creating an affordable line of mics for the home studio owner.
The P220 is a condenser cardioid microphone, most suitable for recording vocals. It's known for its warm sound and also features bass-cut filter switches and a -20dB pad attenuation.
This slick-looking little mic comes in a foam-lined metal box and includes a shock mount. With a price tag just over $100, it's no wonder that the P220 is considered by many to be one of the best budget studio microphones. When you compare it to its most obvious rival on this list, the Rode NT1-A, it comes down to personal preference in sound character.
If you want a brighter sound and can afford to pay a little extra, we'd recommend the NT1-A. If you want a warmer tone and your budget is capped at around $130, then the P220 is a fantastic choice too.
Pros:
Good looking mic

Nice warm sound

Includes deluxe metal case with shock mount
Cons:
Particular sound character may be unsuitable for some voices

Needs phantom power
---

Check Price
The MXL V67G is a large condenser mic with a vintage feel. The capsule is covered by a golden mesh cap that is bolted onto a dark green body. This look might be too funky for some, but others may find it kind of classy.
Getting past its looks, the V67G has a nice, vintage tube sound character that complements the actual look of the mic. It has tons of positive reviews and an extremely low price.
Priced under $70, this mic is designed to be affordable for nearly all cheap mic-seekers. But don't expect the bells and whistles that some of the other mics have going for them. The MXL V67G doesn't come with a shock mount or a case. Instead, just a pouch and mic stand holder are included.
You can purchase a shock mount for the V67G, but in this case, it probably won't make much of a difference in terms of sound or performance. If you're looking for a tube-like, vintage, and crunchy sound from your mic, the V67G is definitely one to look at.
Pros:
Vintage look and sound

Looks nice

Very cheap
Cons
No hard case or shock mount provided

Sound character not appropriate for all genres
---

Check Price
Moving towards the end of our list, we've got another MXL microphone, the 990. It's a slight step up from the V67G and comes in at a similar price. The 990, like others on our list, works best on vocals.
Let's be realistic – you can't expect a mic under $100 to be on par with some of the giants in the game. Your 990 will not outclass a Neumann U87i, and it has significant limitations, like its inability to work with loud sources. But, it can still have some good features for what it is.
Keeping that in mind, let's talk about what's good about the MXL 990. For starters, it's incredibly affordable, and quality to cost ratio is important – especially when you're just starting out.
The 990 offers a good sound with a nice balance of sensitivity and gain. It complements your voice without sounding too colored or artificial, and it also comes with a plastic foam-lined case and its own shock mount. For such a low price, you can't go wrong with this one.
Pros:
Case and shock mount included

Balanced sound

Very cheap
Cons:
Can

'

t be used on amps or loud sources

Positioning can affect the sound
---
Best Cheap Microphones Buyer's Guide

In other words – what to look at when buying cheap mics?
Condenser or Dynamic?
One of the most important things to have in mind when buying a cheap microphone is what you want to use it for. If you're mostly recording vocals, it's smarter to invest in a condenser microphone.
Large-diaphragm condenser microphones are the usual tool of choice when it comes to capturing detailed and rich-sounding vocals. Although not all condensers are built the same, some can also give you good results on other things, like a guitar cabinet or bass speaker.
This is true for some mics, but if you really need to record high output sources like a guitar or bass cab, a dynamic microphone is best. Dynamic microphones are better at recording loud sounds and are usually built to be more rugged for rough handling. That's why most people use dynamic mics for drum and guitar tracks.
There are other types of mics used to capture guitar amps, such as ribbon mics. However, dynamic mics are the most popular for those kinds of applications.
If you want to read more about condenser vs. dynamic microphones feel free to check out this article over here.
Phantom Power
If you're looking into cheap mics, chances are your budget is limited and you're looking for an affordable, effective microphone just to plug in and get the job done. 
Most condenser mics require you to have phantom power on your interface or mixer in order for them to work. On the other hand, dynamic mics do not require any phantom power to work and can literally be powered by anything with an XLR.
The reason why condenser microphones need phantom power is that they contain active electronics that need to be powered externally. Dynamic microphones are passive.
If you do decide to go down the path of the condenser mic and you don't have phantom power available on your recording device, you'll have to buy some extras to make it work.
Read more about phantom power here.
Sound Characteristics
Although some microphones sound similar, no microphone sounds the same, and some work better with certain voices or sources.
Some mics have a warm and deep sound, others have bright and sparkly sounds, while others are more mid-driven.
We include some recommendations about what works with what in our list, but if you want to hear more, feel free to check this comparison test of different microphones to further understand the difference in sound character:
Pop Filters & Shock Mounts
When recording vocals, especially if you're using a high output mic like a condenser, it's essential to have a pop filter and a shock mount.
As previously mentioned, condenser mics have a higher output than dynamic mics, which makes them have a more sensitive input. That's the main reason why condensers sound so detailed and vibrant.
This also means they're susceptible to ambient noise, way more than dynamic mics are. Sharp breaths and powerful P's will cut through the recording like no one's business. 
This is where the pop filter comes in. The pop filter diffuses those powerful p's and breaths so that the recording sounds clearer.
The shock mount suspends the microphone to keep any accidental hits to the mic stand or mic from getting in the recording. It creates separation between the mic stand and mic that dampens sounds you don't want.
Conclusion
We've established a clear difference between condenser mics and dynamic mics. If you're only interested in recording vocals, then definitely think about a condenser microphones. But if you want a great all-around microphone that is affordable and can perform in the studio and in a live setting, then the SM58 is the clear winner.
The Shure SM58 is an absolute beast of a microphone that can be placed in front of almost anything and perform really well. If you're just entering the world of recording, I highly recommend starting out with the SM58.
While we think the SM58 is the ultimate cheap mic, all of the microphones on our list have some great and unique qualities. The important thing is always to make sure that you pick the microphone that suits your needs – and have fun in the process.