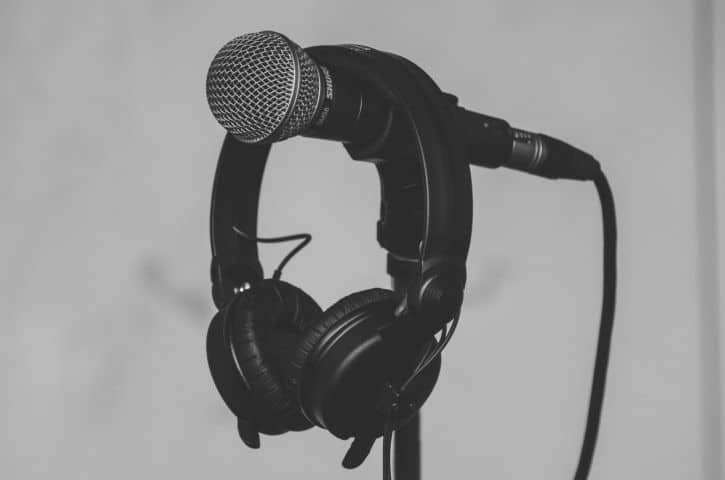 Here's what we love about dynamic microphones:
They can handle cranked up volume levels without blowing the mic capsule.
They're great for vocals
And personally, I love using them to record my snares
In this article, we'll review the 8 best dynamic mics for sale today.
Ready? Let's get started…
The 8 Best Dynamic Microphones Reviewed

Check Price
We've praised this mic in other reviews, and we're about to do it again. 
The rugged SM58 is a tremendous all-around dynamic microphone. It captures clean vocals without making them sound overly compressed. 
The SM58 is a rugged microphone that will last just as long as you do. Provided you don't put it under a ridiculous stress test, it's a workhorse of a mic that will never let you down, even if you use it on instruments.
As far as dynamic mics go, the SM58 has proven its worth time and time again. It's been used to record many legendary albums while also establishing itself just as a worthy stage mic.
The tonal characteristics of the SM58 are somewhat flat, so it doesn't really emphasize one part of the tone. It does   favor midrange slightly and there's a slight roll-off from the higher frequencies. 
Shure (pun intended), there are other dynamic mics out there that also do a good job with many sources – but the SM58 is an exceptional, trusted microphone that will last a lifetime. 
Pros:
Durable

Affordable

Legendary

Good on many sources
Cons:
---

Check Price
Just like its bublier sibling, the SM57 is another widely popular mic that has captured the sounds of our favorite amps and produced some of the most memorable sounds. 
This mis shares the same capsule as its brother, the SM58. The only difference between the two is the head cap and the 57's thinner body. This allows you to place the mic extremely close to the source without the bottleneck of the 58's mic cap.
The SM57 has been the number one choice for engineers around the world for amps, drums, and many other instruments. It's still considered a world-class microphone today. 
The tonal characteristics of the 57 are almost identical to the 58, so you can't go wrong by picking any one of the two. 
The SM57 costs about the same as the SM58 and is one the best affordable, dynamic mics on the market. 
Pros:
Great with amps and drums

Rugged

Affordable

Trusted by sound engineers all over the world
Cons:
Lacks clear highs

Needs pop filter for vocals
---

Check Price
It might seem like we're sponsored by Shure at this point in the list. Sadly, we're not getting that money – we just genuinely think this brand has the best products. Shure has been manufacturing mics since the 1930s and has been leading the dynamic mic sector for a long time.
The SM7B is yet another winner from Shure and is one of the leading mics on the market. It's often used as a high-end podcast microphone or as an amp mic, and even more often as a studio vocal microphone. 
With a frequency response of 50hz – 20000hz, the SM7B offers a dynamic sound at a friendly price. You won't hear any hum or electrical noises with the SM7B either. Its internal shock mount also eliminates mechanical noise. 
This mic comes with one of the best pop filters on the market and an external windscreen – all of this on top of the included premium case that fits everything in. 
The Shure SM7B is much more expensive than the other Shure microphones included in this list. However, it's an exceptional microphone that can produce high-quality sound on many sources and at a price that gets you even more than you pay for. 
Pros:
Exceptional sound quality

Versatile 

Noise is non-existent

Includes high-quality accessories
Cons:
---

Check Price
The Audio Technica ATR2100-USB is a handheld cardioid dynamic microphone that offers both USB and XLR connections. This could be extremely useful when you don't own a recording interface and want to plug directly into your computer. 
The ATR2100-USB produces a smooth range of frequencies, making it ideal for use on amps, vocals, snares, and pretty much anything you want. It's a great low-budget mic that gives you versatility in the studio along with good connectivity.
It's also an extremely low-noise mic, making it good for podcasting as well. The included tabletop stand will save you money if you're into podcasting. 
The ATR2100-USB also comes with a built-in headphone jack, which allows you to monitor your recordings directly through the microphone. You even get an XLR cable along with a mic stand mount, a soft carry pouch, and a USB cable. 
Honestly, for well under $100, you really can't go wrong with this mic. 
Pros:
Endless connectivity

Smooth sound

Versatile 

Great for podcasting 
Cons:
Usb connection can be flimsy

Stand could be sturdier
---

Check Price
The D5 is a super-cardioid dynamic microphone that comes in at under $100. It's a sturdy microphone that doesn't produce much feedback in a live scenario. Although it works best for live performances, the D5 also performs well in the studio. 
With more clarity than the SM58, the D5 gives you excellent sound across all frequencies and can even capture hidden harmonics. Its rugged build can be battered and beaten and will stand the test of time.
As a direct competitor to the 58, the D5 favors a broader frequency range, while the 58 emphasizes the mid range a bit more. Although some might say that the D5 sounds clearer than the 58, they both have different sound characteristics and it comes down to individual taste.
Nonetheless, the AKG D5 is a sturdy microphone that will give you good results both in the studio and, more noticeably, in a live performance. 
Pros:
Super-cardioid

Sturdy

Good price

Clear sound 
Cons:
Noisy when handled

No accessories
---

Check Price
The Sennheiser e906 is another super-cardioid microphone that has earned its place as one of the top dynamic microphones around.
Featuring a flat-face design, the e906 is often used in front of electric guitar amps. It's built like a tank with a reinforced metal body and features a three-position switch so you can customize its sonic character. 
The e906 is a compact microphone, making it good for use with drums too. Its tone is similar to the SM57.  The mic also features a high cut/boost switch, so it's even more versatile in the tonal area. 
Yes, it's more expensive than Shure's SM family, but the Sennheiser e906 will give you great results when placed in front of an electric guitar cabinet or a snare drum. 
This mic is the king of versatility with bright, moderate, and dark sound characters. It's overall an excellent dynamic microphone for amps and loud instruments in any studio. 
Pros:
Great on amps

Great on snares

Switchable sounds

Rugged
Cons:
Pricey

Not great on vocals
---

Check Price
The Electrovoice RE20 is primarily a broadcast microphone, and it's a pretty good one too. It has become the industry standard for recording voice all around the world.
It features a built-in windscreen that eliminates both sibilance and pops and is hugely convenient. Its "Variable-D" technology also reduces proximity effects caused by the distance of the speaker to the microphone.
The RE20 sounds the same from all angles, which is a neat feature. This means it can capture linear vocals even if you're moving around the mic. 
Even if you're not using this mic in a broadcast scenario, it sounds good with several sources, including bass cabs, kick-drums, guitar amps, snares, and toms. It gives you a smooth sound with a flat frequency response.
Overall, the Electrovoice RE20 is an exceptional microphone and an asset for any studio. Coming in high at just under $500, it's not as budget-friendly as some of the mics on our list, but it sounds great and is still the industry standard in broadcasting. 
Pros:
Broadcast industry standard

Exceptional vocal reproduction

Variable D tech

Built in windscreen

Versatile
Cons:
Expensive

On the heavy side
---

Check Price
The MD 421 sounds great on anything you throw at it, whether it's cabinets, toms, percussion, or bass. It's not the prettiest or cheapest mic, but if you look beyond that, you'll find that this mic offers amazing versatility.
The MD 421 features a 5-position bass roll-off switch, which is pretty much the only feature it possesses. But what it lacks in features and looks, it makes up for in sound. If you need a high-quality all-around mic that will be used on vocals drums, cabinets, and acoustic instruments, then definitely consider this mic as an option. 
It's not ideal as a vocal mic. Still, its versatility on other applications and its sound character make it one of the best all-rounders. 
Pros:
One of the best all-rounders

5-position bass roll-off switch

Great Sound
Cons:
Expensive

Not for all vocal styles
---
Best Dynamic Microphones Buyer's Guide

What to look for when buying a dynamic microphone?
Usage
We've said before how important it is to choose your next mic based on your individual needs. 
Your choice of dynamic microphone is particularly important since it'll probably be the tool you turn to the most. You'll want your microphone to be capable of handling a variety of sources, especially if you're on a budget. 
Although all dynamic microphones can handle loud sources, many of them are actually best for live performances. Still, if you look at properties like feedback tolerance, some mics will do this better than others.
Just as some of the dynamic mics we've mentioned are best for amps or instruments, others are better for voice or live performances. 
Check out a comparison video of the three Shure mics that we've reviewed in our guide: 
Character
Just like people, mics tend to have their own character.
When you're considering which dynamic mic to use on your snare, you tend to have a general idea of how you want the snare to sound. Some dynamic mics will give you a papery, mid-driven sound, while others may capture a more boomy sound. 
Check out this snare mic shootout video here to hear the difference in sound between 15 different mics:
Maybe you want to mic your electric guitar cabinet to capture a specific amp sound. Certain microphones favor specific frequencies, which makes them better for certain genres of music. You've seen some of this reflected in our list above.
Different mics will produce different results. If you're mostly using your dynamic mic for drums, amps, and instruments, make sure the tone sits well with you. 
Why Dynamic?
Quite simply, dynamic mics are built like bulldozers and can handle extremely loud sources. They're versatile both on stage and in the studio. 
Generally, if you need your mic to record amps, drums, loud rock vocals, then you'll definitely need a dynamic mic. 
If you're mostly looking to record vocals and want to capture crispy highs and detailed low end, check out our Best Condenser Microphones guide. 
Connectivity
More and more people every day start their own podcast, whether from their bedroom, studio, or another location. Podcasting is a whole different animal than recording and production. If you're a new podcaster, you might not be aware that most dynamic microphones are fed with XLR cables – so you'd need a recording interface to use those. However, if you don't have one of those and would like to start podcasting on a budget, there are USB compatible dynamic mics.
This will allow you to plug into your computer via USB and start podcasting without having to buy a recording interface first.
Conclusion
Well, we've come to the end of our guide – here's a summary of our picks. 
We think the Shure SM58 is the best dynamic mic for most people for four simple reasons: it's cheap, it's rugged, it works well in front of anything, and it performs well both live and in a studio environment. 
Our premium pick is the Sennheiser MD 421 II. This mic is what engineers have called "the one" when asked to pick one dynamic microphone for their studio, and we couldn't agree more. 

And if you're on a budget, we recommend the Audio-Technica ATR2100-USB. It sounds good and comes with plenty of accessories. It also has a headphone jack for direct monitoring, as well as a USB connection. Low price and good value for the money.