One of the most important pieces of gear in any music studio is the MIDI Keyboard (also known as a MIDI interface). It lets you control your DAW and software instruments and create a better workflow – which gives you more room to be creative.
And the good thing is, you can get a decent MIDI interface quite cheap these days.
In this article, we've reviewed 9 of the best budget MIDI keyboards. These budget picks are perfect for a home studio, especially if you're stying to save some money.
Below are some of our favourites that'll give you the best bang for your buck for under $200.
Ready? Let's get started…
9 Cheap MIDI Keyboards Under $200 Reviewed [2020]

Check Price
If you're on the lookout for a light and portable MIDI keyboard, then the Akai LPK25 should be on the top of your watchlist.
The LPK weighs just 635 grams, making it the lightest of its kind. It's also tiny. It's about the length of your average 13-inch laptop and the width of a phone.
It features 25 mini keys, including dedicated up and down octave buttons as well as sustain and arpeggio buttons. The lack of bells and whistles on the Akai makes it ideal for beginners to use on-the-go.
However, the Akai isn't always the best tool for a live performance. Some users reported issues with key sensitivity on their LPK.
This keyboard is designed for ultimate portability. As far as keyboards with the smallest footprint go, the Akai LPK25 is the winner, hands down.
 Pros:
 

Highly portable

 

Light

 

Affordable

 

Dedicated octave and sustain buttons

 

Dedicated built-in arpeggiator
 Cons:
 

Reports of inconsistent key performance

 

Lacks pads and features
---

Check Price
The Nektar SE25 is similar to the Akai LPK25. It's portable and cheap, but unlike the Akai, this little beauty has dedicated DAW controls.
The SE25 features 25 mini keys, play, record, rewind, and fast forward buttons. It also features a signature "part two" feature, which acts as a quick octave shifter.
The Nektar is ideal for music-making on the go, leaving more space in the bag for other music-making tools. The keybed features three selectable velocity curves to fit your playing needs.
The biggest advantage of the Nektar SE25 is its DAW integration. It supports many popular DAWs such as Logic Pro, Cubase, Pro Tools, and many others. At this price point, that's hard to beat.
The SE25 is compatible with Windows, Mac OS, and Linux, as well as iOS (camera connection kit required). If your needs are more DAW oriented, then the Nektar a  better fit for you than the LPK25.
 Pros:
 

Portable

 

DAW controls

 

Octave controls

 

Supports all DAWs

 

Solid build
 Cons:
 

Lack of a pitch and modulation controls

 

More expensive than the Akai LPK25
---

Check Price
The Novation Launchkey Mini is another portable keyboard to keep in mind if Ableton Live is your DAW of choice. It features 16 velocity-sensitive touchpads as well as 8 knobs that are fully assignable, so you can customize everything just how you like it.
This keyboard also includes Ableton Live Lite, XNL Audio Addictive Keys, and other complementary software, which is a valuable package to get you started in music production.
The Launchkey, unlike many of its rivals, doesn't feature pitch or modulation controls. Instead, it focuses onDAW functionality and does so well.
Although this keyboard is compatible with many popular DAWs, it works best with Ableton Live. The transport control buttons work well right out of the gate, and the keyboard itself feels solid.
At this price point, it's difficult to find a better option than the Launchkey Mini, especially if you're a Live user.
 Pros:
 

Works well with Ableton Live

 

Solid build

 

Velocity sensitive pads feel good

 

Compact
 Cons:
 

No pitch or modulation control

 

No sustain pedal input
---

Check Price
This tiny beast is a portable MIDI powerhouse. If you're looking for cheap MIDI keyboard packed with a ton of features and that fits inside most backpacks, check out the MPK Mini Mk2.
There are no compromises on the MPK when it comes to features. It packs 25 keys, 8 velocity-sensitive backlit pads, 8 knobs, as well as a 4 axis pitch and mod control thumbstick.
The MPK mini, just like its sibling, the LPK25, is quite small. It's roughly the width and length of a 13-inch laptop and weighs under 800 grams. While not as little as the LPK25, it's definitely still portable.
It's not perfect – the keys are a bit small and the thumbstick has a learning curve -but the good far outweighs the bad. The MPK is a complete mini-keyboard that holds its own against others on the market. 
With a price tag of under 100, it's no wonder that the MPK Mini is the popular choice among budget keyboards.
 Pros:
 

Packed with features

 

Light and portable

 

Best seller

 

Pads are easy to use
 Cons:
 

Takes time to get used to the layout

 

No DAW control
---

Check Price
The M32 is a slick, sophisticated, and small midi keyboard with many of the features of its larger siblings. Powered by USB, the M32 features 32 keys and many hands-on controls.
Featuring 8 rotary knobs and a 4D encoder, the M32 is a good keyboard to consider when you're on a budget. It has a lot of features for its price and is highly portable.
If you're using Native Instruments Komplete software, then the M32 would be the obvious choice for you since it automatically has the software compatibility you need. However, it works just the same as a regular midi keyboard too.
With DAW controls included at a more affordable price than most, plus tons of other features, the M32 is a great option to consider.
 Pros:
 

Slick design

 

Great functionality

 

32 keys

 

Somewhat portable
 Cons:
---

Check Price
Moving beyond just25 keys, the Alesis V49 is next up on the list.
The V49 boasts some serious features for its price: 49 semi-weighted keys, 8 velocity-sensitive backlit pads, and 4 assignable knobs and octave up/down buttons, not to mention a modulation/pitch wheel. That's a LOT.
This keyboard also comes with everything you need to start making music. It includes Pro Tools | First and Ableton Live Lite, as well as other software.
With a slick look and a price point under $150 the Alesis is definitely worth checking out. It's relatively small, but due to its 49 full-sized keys, the V49 is not as portable as some other keyboards on our list.
If you are working from a smaller space and won't move around a lot though, the V49 is a good option. You get 49 full-sized, semi-weighted keys, pads, and knobs at a price that is hard to beat.
 Pros:
   

Semi-weighted keys

   

Pro Tools | First and Ableton Live Lite Included

   

Slick look
 Cons:
   

Unusual layout may need getting used to

   

Pitch/mod wheels could be bigger
---

Check Price
M-Audio has reigned supreme in the MIDI keyboard market for a long time. They make quality keyboards at an affordable price.
The Oxygen 49 4th generation is an excellent example. It's a good all-around keyboard that not only comes with 49 keys – it's also packed with useful features.
It has 9 assignable faders, 8 velocity-sensitive trigger pads, 8 rotary knobs, as well as a transport control section with rewind, play, record, fast forward and stop buttons.
The Oxygen is the most complete package on our list by far. While it doesn't fit in a backpack, it's still light enough to move around, and it's a rock-solid, stable  keyboard.
If you're looking for a cheap MIDI keyboard that has both DAW integration as well as music-making tools (pads) ,then the Oxygen is a no-brainer.
 Pros:
 

49 full-sized keys

 

Buttons and controls

 

Good value for money
 Cons:
 

Keys are not semi-weighted
---

Check Price
The Midiplus X6 mini is another example of a player's keyboard. With 61 semi-weighted mini keys, you won't be looking for an extra octave in a hurry.
The X6 Mini is a bare-bones keyboard. It features a basic transport control that's compatible with most DAWs as well as 4 assignable rotary knobs. It also features pitch and modulation touch strips as well as octave up and down buttons.
Its small keys also make this keyboard smaller than a lot of other keyboards with 61 keys. This is a plus if you don't have much space on your desk and need a smaller profile with more keys.
The X6 Mini also has a sustain pedal input and MIDI, which complements its function as more of a player's keyboard.
If you're looking for a budget keyboard with 61 semi-weighted keys and a few DAW integrations, try the Midiplus X6 Mini.
 Pros:
 

61 semi-weighted keys

 

DAW transport controls

 

Plays well

 

Pedal and MIDI input
 Cons:
---

Check Price
M-Audio's Keystation series has been a best seller since they came out with the Mk1. If you need 61 keys under $200, this would be the keyboard to get.
The Keystation brings solid playability and several useful features in a minimal yet functional package.
With a keybed of 61 semi-weighted keys, the Keystation Mk3 features a pitch and mod wheel, 1 assignable fader, and a basic set of transport controls. Some other smaller MIDI keyboards may have more buttons and knobs, but the Keystation is a solid keyboard with M-Audio's signature quality.
 The M-Audio Keystation Mk3 is a good choice if you're looking for more keys and easy playability. 
 Pros:
 

61 semi-weighted keys

 

Transport controls

 

Quality
 Cons:
 

Lack of features

  No drum pads
---
Best Cheap MIDI Keyboards Buyer's Guide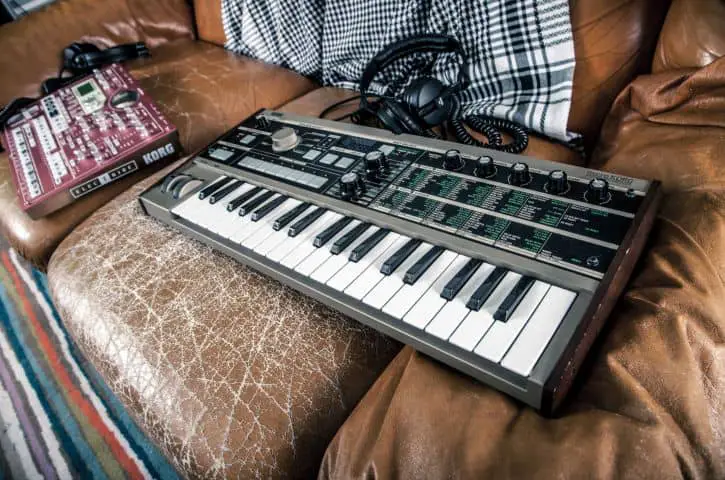 A.k.a. What to look for when buying a cheap MIDI keyboard?
Portability
With the advances in mobile music-making technology, it's important to consider how big you need your keyboard to be. If you're the kind of person who likes to make music from anywhere in the world, you should be looking into portable keyboards, like the MPK Mini LPK25 or Launchkey Mini 25.
Gear Compatibility
Another thing you should keep in mind is the compatibility of the keyboard with your devices. Some keyboards are not compatible with Android or iOS tablets.
Number Of Keys & Features
It's also important to think about how much space you have for the MIDI keyboard in your setup. Many keyboards are different in size – even keyboards that share the same amount of keys.
The style of music you'll be making will also come into play. If you're a pianist, look out for semi or fully-weighted keys, as well as a sustain pedal input. If you're into EDM, an onboard arpeggiator and pads will help you out.
DAW Integration
If you're recording and mixing a lot, you'll probably want to look for a keyboard with DAW integration. Check which DAWs the keyboard works best with if you've already got a DAW. If you don't have one yet and really want to get into production, consider getting a package deal, like that offered with the Alesis V49 or Novation Launchkey Mini 25.
Playability
Playability is another thing to consider when purchasing a MIDI keyboard. If live performance is crucial for you, then additional keys and weighted keys might be something to look out for.
In some cases, more keys mean fewer buttons and features. Still, if you're a serious player who wants a MIDI keyboard that is best equipped for playability, then you can sacrifice the extra features.You should also think about build quality. Not all MIDI keyboards are built equally. Look for something sturdy so that you won't have to buy another one soon.
Cheap MIDI Keyboards: Conclusion
It comes down to what is best for you. We appreciate all the keyboards mentioned above, but it's about covering your needs.
Think about your setup and where your keyboard fits in. Make sure it will make your work easier rather than complicating it more.