One of the most important pieces of gear in any music studio is the MIDI Keyboard (also known as a MIDI interface). It lets you control your DAW and software instruments and create a better workflow – which gives you more room to be creative.
And the good thing is, you can get a decent MIDI interface quite cheap these days.
In this article, we've reviewed 9 of the best budget MIDI keyboards. These budget picks are perfect for a home studio, especially if you're stying to save some money.
Below are some of our favourites that'll give you the best bang for your buck for under $200.
Ready? Let's get started…
9 Cheap MIDI Keyboards Under $200 Reviewed [2020]
Best Cheap MIDI Keyboards Buyer's Guide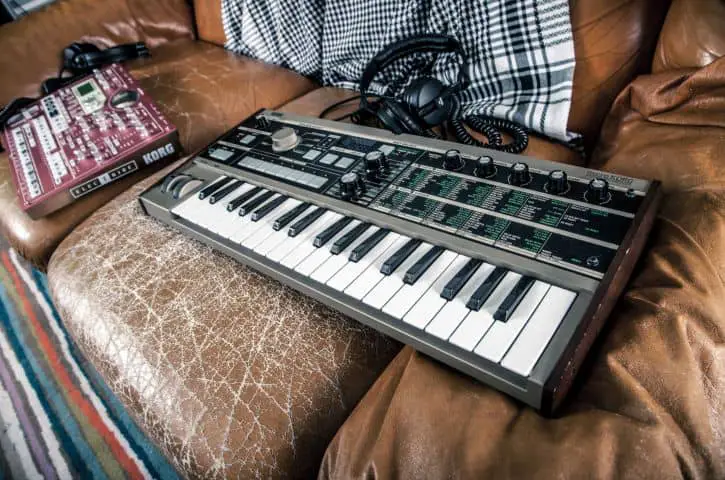 A.k.a. What to look for when buying a cheap MIDI keyboard?
Portability
With the advances in mobile music-making technology, it's important to consider how big you need your keyboard to be. If you're the kind of person who likes to make music from anywhere in the world, you should be looking into portable keyboards, like the MPK Mini LPK25 or Launchkey Mini 25.
Gear Compatibility
Another thing you should keep in mind is the compatibility of the keyboard with your devices. Some keyboards are not compatible with Android or iOS tablets.
Number Of Keys & Features
It's also important to think about how much space you have for the MIDI keyboard in your setup. Many keyboards are different in size – even keyboards that share the same amount of keys.
The style of music you'll be making will also come into play. If you're a pianist, look out for semi or fully-weighted keys, as well as a sustain pedal input. If you're into EDM, an onboard arpeggiator and pads will help you out.
DAW Integration
If you're recording and mixing a lot, you'll probably want to look for a keyboard with DAW integration. Check which DAWs the keyboard works best with if you've already got a DAW. If you don't have one yet and really want to get into production, consider getting a package deal, like that offered with the Alesis V49 or Novation Launchkey Mini 25.
Playability
Playability is another thing to consider when purchasing a MIDI keyboard. If live performance is crucial for you, then additional keys and weighted keys might be something to look out for.
In some cases, more keys mean fewer buttons and features. Still, if you're a serious player who wants a MIDI keyboard that is best equipped for playability, then you can sacrifice the extra features.You should also think about build quality. Not all MIDI keyboards are built equally. Look for something sturdy so that you won't have to buy another one soon.
Cheap MIDI Keyboards: Conclusion
It comes down to what is best for you. We appreciate all the keyboards mentioned above, but it's about covering your needs.
Think about your setup and where your keyboard fits in. Make sure it will make your work easier rather than complicating it more.