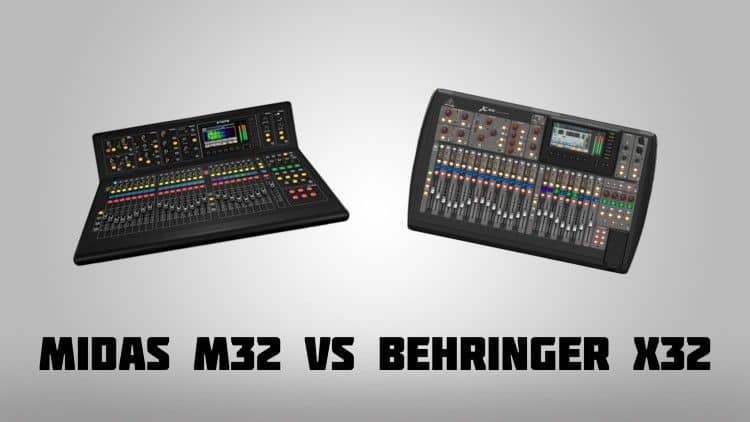 Those who keep up with the Jones' of the audio industry might know that Behringer's parent company, Music Tribe, bought Midas a few years ago now.
So, what business do they have releasing two digital mixing consoles that offer many of the same features, and in fact have almost the same name?
As it turns out, these two consoles are actually quite different in practice, which is what we're going to break down today.
Here's what we'll cover in this Midas M32 vs Behringer X32 comparison:
Preamps
Build quality
Ergonomics
Effects
Inputs/Outputs
Recording capabilities
Portability
Price & Value For Money
Pros & Cons
Ready? Let's get started…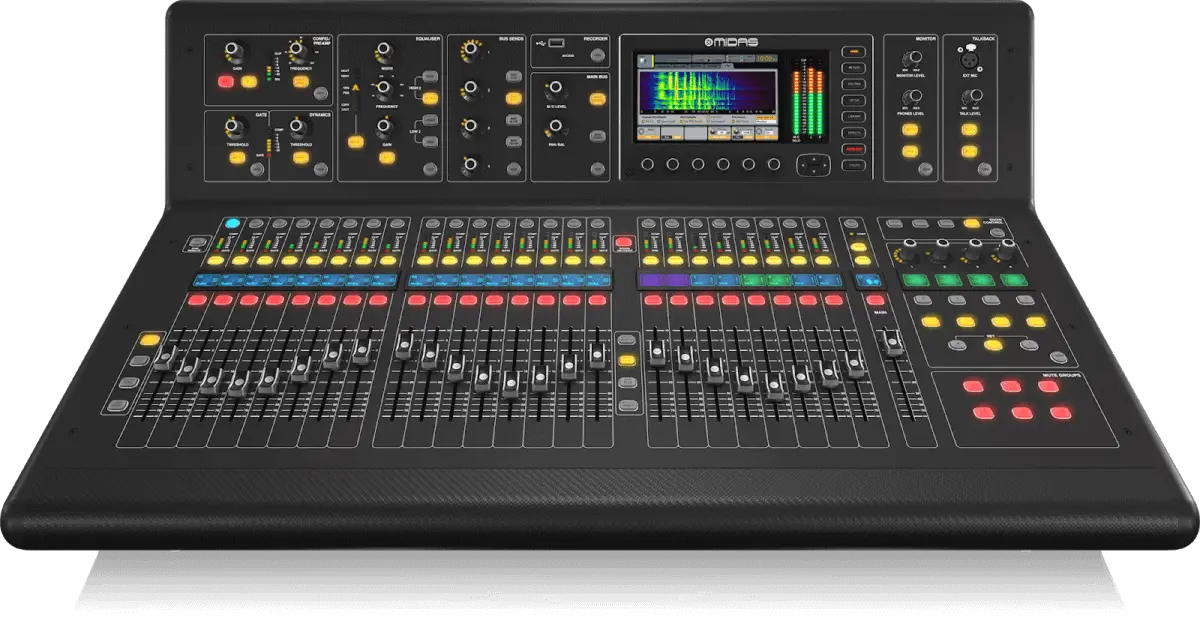 1. Preamps: Midas M32 vs Behringer X32
Preamps: Midas M32
If there's one thing Midas is known for, it's exceptional preamps.
So, it comes as no surprise that the 32 microphone preamps in the M32 are nothing short of fantastic.
The units in the M32 are Midas' award-winning PRO Series microphone preamplifiers (the same ones used in their XL4 and HERITAGE 3000 consoles), with very low harmonic distortion, making them crisp, clean, and transparent.
This is exactly what you want in a digital mixing console that's designed for live sound, as you'll have very little room for finding another preamp if you're not loving the sound of one that has plenty of character.
Preamps: Behringer X32
The preamps in the X32 are Midas-designed, but they aren't "actual" Midas preamps.
In short, they've borrowed some of the technology from Midas, but still have them manufactured overseas. Hey, you've gotta cut costs somewhere, right?
Still, they offer 72dB of gain, which is seriously impressive considering most preamps are around 55dB or so, and they are transparent and open.
Maybe nothing to write home about, but far more than good enough for live sound reproduction.
Preamps: Bottom Line
To sum it up, both consoles are built with excellent preamps, but the ones in the M32 are simply several notches more luxurious.
If the sound of the preamps is your number one concern, then you'd have to take the Midas desk over the Behringer.
Preamps Winner: Midas M32

2. Build quality: Midas M32 vs Behringer X32
Build quality: Midas M32
Midas' engineers looked to luxury car manufacturers like Bentley and Rolls Royce when designing the M32, to give you an idea of the effort put into building this desk.
It's a sleek, ergonomic unit that feels like the high-end desks we've come to love from Midas.
Build quality: Behringer X32
On its own, the X32 is a seriously durable and well-built console, more than worth its name as one of the finest live touring digital consoles around.
However, side by side with the M32, you can tell the difference in build quality.
It's small things like the finish of each desk, and the materials used to construct them that really give it away.
Build quality: Bottom Line
On the whole, the Midas M32 feels like the more durable and elegant product. Which it should, considering it costs twice as much!
Build quality Winner: Midas M32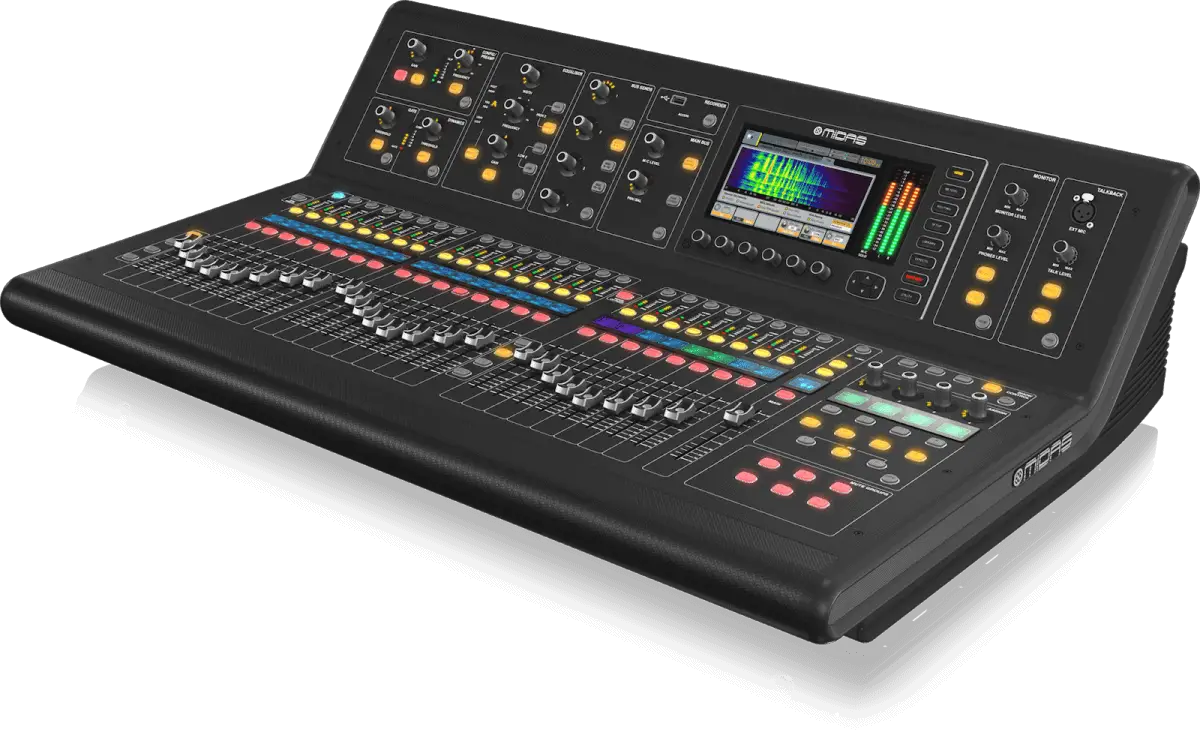 3. Ergonomics: Midas M32 vs Behringer X32
Ergonomics: Midas M32
The Midas M32 is a joy to work at.
This is primarily due to the angled screens and effects sections, which are right there in front of you rather than far away at the top of the desk.
This design brings everything much closer so you can make changes on the fly.
The LCD scribble strips are a really nice touch, allowing you to name your channels quickly and cleanly, and the faders on the M32 are super tactile and not jumpy at all.
You can also control the M32 from a distance, using:
The M32-EDIT app, which allows you to use any MCU (Mackie Control Universal) control surface from a distance
M32 MIX app for iPad
M32-Q for iOS and Android devices
Ergonomics: Behringer X32
The X32 is a nicely laid out console with the main LCD screen to the right, effects on the left, and faders laid out more or less where you'd expect them to be.
It's quite as sexy as the M32, which is a take it or leave it factor, but most obviously lacking is the tilted upper section.
The X32 is laid out more or less flat (it's a triangle shape so the back end is a bit higher than the front), so it's not quite as accessible as the M32.
A subtle difference on paper, but quite the change when you're using the desk for hours on end.
The X32 has all of the same apps as the M32, allowing you to set up a mix from your iPad or phone while you're standing in the middle of the crowd.
Ergonomics: Bottom Line
Neither of these desks are going to give you any trouble in terms of ergonomics, and you'll be able to find a decent workflow with ease.
However, the tilted upper section of the M32 makes for a much more ergonomic profile, so it's definitely the winner of this round.
Ergonomics Winner: Midas M32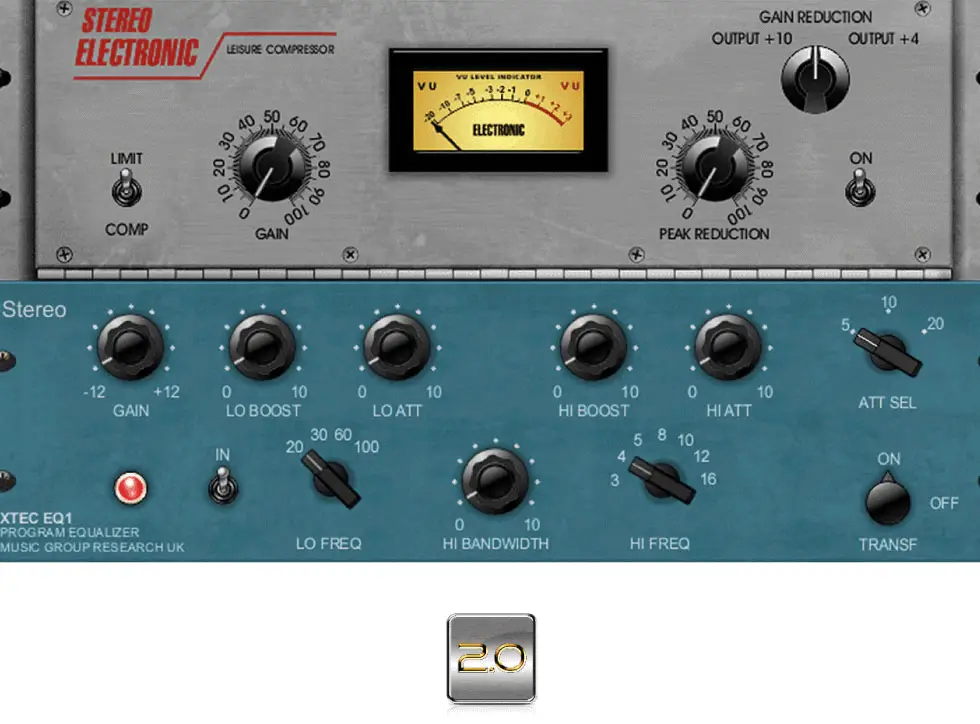 4. Effects: Midas M32 vs Behringer X32
Effects: Midas M32
The M32 comes with more than 50 built-in effects for crafting your live sound experience, from compressors to reverbs to equalizers.
Most impressive are the 16 plugins based on physical modeling done on vintage analog gear. This gives you access to units like:
Urei 1176
Teletronix LA-2A
Fairchild 670
Pultec EQP-1a and EQ5 equalisers
Many more
You can add an effects rack to any input, group, or bus, and stack up to 8 stereo effects units on each.
Effects: Behringer X32
The Behringer X32, surprisingly, offers the same effects lineup as the M32, with all of the vintage-modeled gear that the Midas desk boasts.
Pretty impressive, considering the price.
Effects: Bottom Line
The bottom line here is that both desks offer the exact same level of effects, with the same allowances for buses and effects racks.
Such effects include the new 5-band multiband compressor, which is super helpful across a mix bus for keeping the low-end tamed in a live context.
This one's a tie.
Effects Winner: Tie

5. Inputs/Outputs: Midas M32 vs Behringer X32
Mic Inputs/Outputs
Both the M32 and the X32 offer analog 32 mic inputs via XLR (hence the names), and 16 XLR outputs, two of which are your main outs.
Each also has control room/monitor outputs, available on either XLR or TS connector.
Aux Inputs/Outputs
Again, the Midas and Behringer units share the same architecture here, with 6 sets of auxiliary inputs/outputs on TS jacks.
5 and 6 can also be accessed via a stereo set of RCA plugs.
Other Inputs/Outputs
In additional to this analog I/O, both desks also include:
2x AES50 ethernet ports for digital networking
Their proprietary Ultranet port
AES/EBU output on XLR
5-pin MIDI in and out ports
Ethernet for remote control (the Behringer unit also offers a USB port for this)
Slot for USB audio interface (more on this soon)
The Midas M32 also has a lamp power output on the upper corner of the rear panel, which helps get a little light over the desk.
That's really the only difference, though, so this one is a tie as well.
Inputs/Outputs Winner: Tie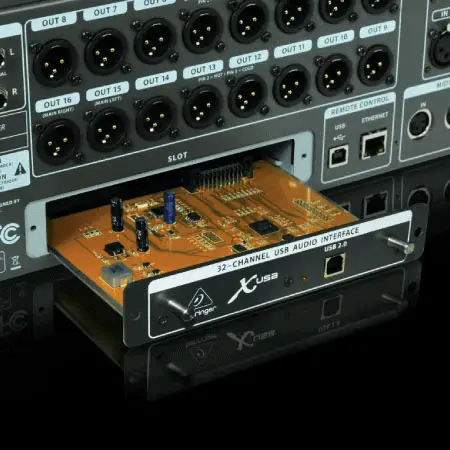 6. Recording capabilities: Midas M32 vs Behringer X32
Recording capabilities: Midas M32
The Midas M32 employs a Klark Teknik 32-channel expansion card (the DN-32 USB), which allows you to record all 32 inputs to your DAW of choice.
This is a high-quality, professional digital card, with great analog to digital conversion and low latency (400 Mbit/second speeds).
Another cool function is the remote HUI and Mackie Control functionality which basically allows you to use the M32 as a controller for your DAW.
So, it's ideal for recording, but also for mixing down!
Recording capabilities: Behringer X32
The Behringer X32, on the other hand, uses a Behringer-designed USB card made especially for the X32.
It offers more or less the same capabilities as the Klark Teknik unit, with 32 channels of USB recording and the ability to control your DAW from the X32 controls.
You can also opt to equip your X32 with expansions cards that allow for recording via:
Recording capabilities: Bottom Line
Both desks offer 32-channels of USB recording capability, with low latency and excellent conversion.
Though the expansion cards are from different manufacturers, they appear to be more or less the same, and there's really no difference in practice, so I'm calling this one a tie as well.
Recording capabilities Winner: Tie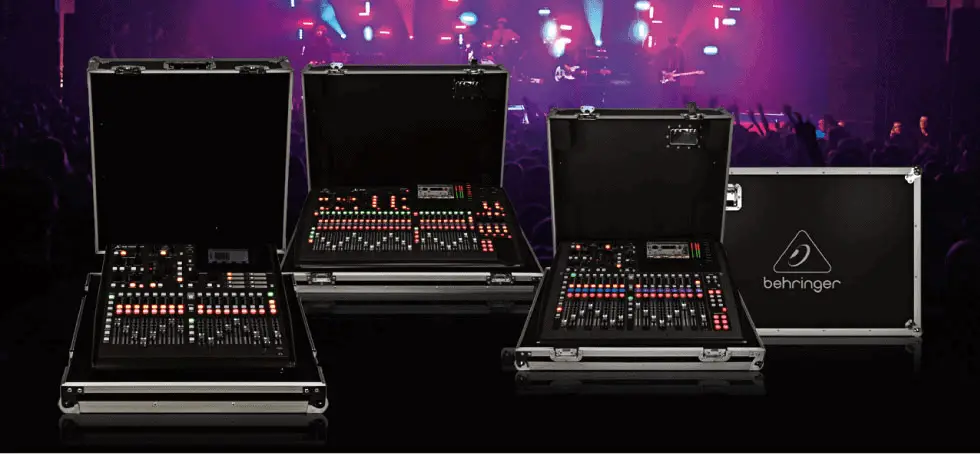 7. Portability: Midas M32 vs Behringer X32
Portability: Midas M32
The M32 is a bit of a beast, weighing in at 55 lbs. It's a two person carry job, and you'll ideally want a fairly large case as well because of the angled back end.
Portability: Behringer X32
The Behringer X32 is all that much lighter, though it does shave off about 10 pounds (it's 45.4 lbs), and is smaller in a couple of dimensions, most notably the vertical dimension due to the lack of angled back.
Still, you'll want to get a friend to help you carry it, and you should consider that a sturdy case will add a few pounds as well.
Portability: Bottom Line
Both of these desks are designed to be reasonably portable. We say reasonably, because they are hardly 2-channel audio interfaces that fit in your backpack.
However, they are compact enough to pack in and out of every gig, as long as you've got a decent case and someone to help you. They are certainly smaller and lighter than traditional 32-channel mixing desks, so we'll give them that.
The X32 is smaller and lighter, though, so it's the clear winner on the portability front.
Portability Winner: Behringer X32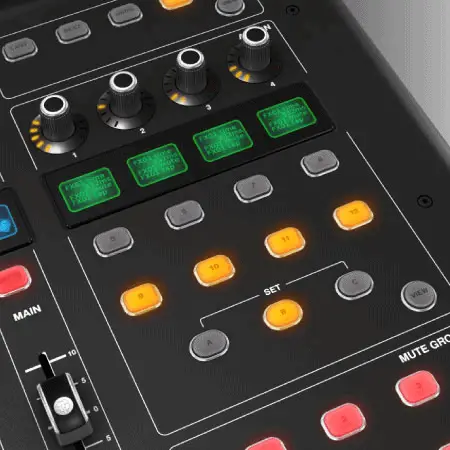 8. Price & Value For Money: Midas M32 vs Behringer X32
Price & Value For Money: Midas M32
The M32 is far from cheap, rocking in at around $4000 for the unit itself. Then, you'll need to grab a road case, and all the relevant cables to record with.
However, this is an incredibly professional device, and considering an installed desk from Midas costs as much as $40,000 (yeah, seriously), it's hard to argue that there isn't significant value for money here.
Plus, you can use it as a live sound desk, a studio recording console, and a DAW controller for mixdown and mastering.
Price & Value For Money: Behringer X32
The Behringer X32 is about half the price of the M32, sliding in nicely under $2000.
The same rules apply: it doesn't come with any cables or cases, so budget for this as well.
Price & Value For Money: Bottom Line
The X32 and the M32 more or less offer the same features.
Yes, the M32 has a longer warranty, feels more luxurious and well-built, and has those gorgeous Midas preamps.
But you can't look past the fact that it costs twice as much, so if price and value for money is your primary concern, we'd go with the Behringer console.
Price & Value For Money Winner: Behringer X32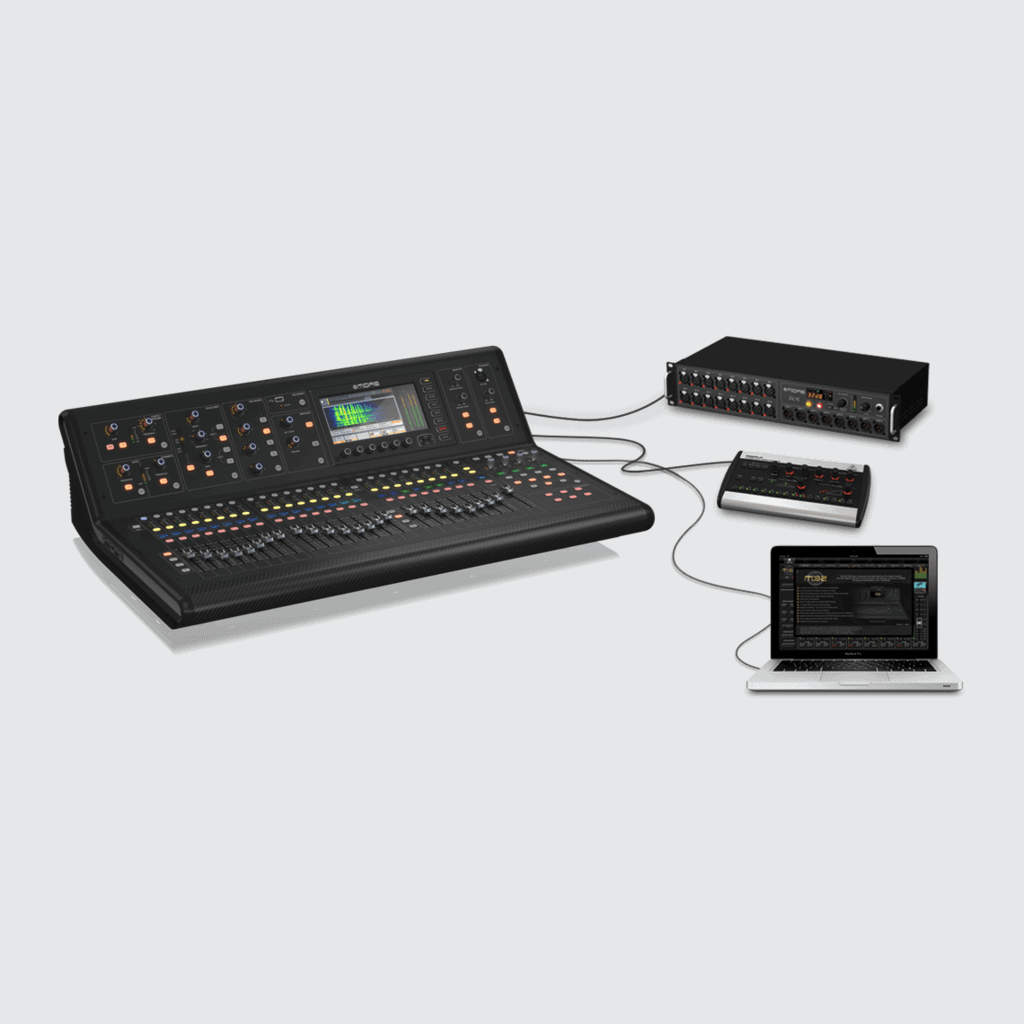 9. Pros & Cons: Midas M32 vs Behringer X32
Midas M32 Pros & Cons
Pros:
Awesome award-winning PRO Series microphone preamplifiers
Analog-modeled compressors and EQs
USB recording functionality
Can control your DAW
Cons:
Could be a bit cheaper
Arguably a little on the heavy side
Behringer X32 Pros & Cons
Pros:
Quite affordable
Excellent effects
Can be controlled via iPad or mobile apps
Cons:
The Midas preamps would be nice
In comparison, the build quality on the X32 just isn't as classy
Conclusion & Takeaway
To summarize our findings in this Midas M32 vs Behringer X32 comparison, here are the winners for each category:
Preamps – Midas M32
Build quality – Midas M32
Ergonomics – Midas M32
Effects – Tie
Inputs/Outputs – Tie
Recording capabilities – Tie
Portability – Behringer X32
Price & Value For Money – Behringer X32
Overall: Midas M32
The long and short of it is that the Midas M32 is the better mixing console, by almost all considerations.
It has better preamps, and more luxurious feel and build quality, a more ergonomic design, and a longer warranty.
If you're looking for the best of the best, then we'd get the M32.
However, and this is a big one, the X32 is half the price.
And, it offers much of the same features as the M32, it just feels a little cheaper by comparison. So, if money is an object, the the X32 presents better value.
Product Links:
Products Comparison Table:
Spec / Feature

Midas M32

Behringer X32

Input Processing Channels

32 Input Channels, 8 Aux Channels, 8 FX Return Channels

32 input channels, 8 aux channels, 8 fx return channels

Output Processing Channels

16

?

16 aux buses, 6 matrices, main LRC

100

?

Internal Effects Engines (True Stereo / Mono)

16

8/16

A/D Conversion (8-channel, 96 kHz ready)

114 dB Dynamic Range (A-weighted*)

24-bit @ 44.1 / 48 kHz, 114 dB dynamic range

I/O Latency (Console Input to Output)

0.8 ms

0.8 ms

Microphone Preamplifier (XLR)

32 MIDAS PRO Series

32 Midas-Designed

Talkback Microphone Input (XLR)

1

1

RCA Inputs / Outputs

2

2/2

XLR Outputs

16

16

Monitoring Outputs (XLR / ¼" TRS Balanced)

2

2/2

Aux Inputs/Outputs (¼" TRS Balanced)

6

6/6

Phones Output (¼" TRS)

2 (Stereo)

2 (Stereo)

Digital AES/EBU Output (XLR)

1

1

Expansion card

n/a

32 channel audio input/output

MIDI

In/out

In/out

Equivalent Input Noise @ +45 dB gain

-125 dB (22 Hz-22 kHz, unweighted)

-128 dBu

Dynamic Range, Analogue In to Analogue Out

106 dB (22 Hz-22 kHz, unweighted)

106 dB

Main Screen

7″ TFT LCD, 800 x 480 Resolution, 262k Colours

7″, 800 x 480, 262k color TFT

Channel LCD Screen

128 x 64 LCD with RGB Colour Backlight

128 x 64, LCD with RGB color backlight

Main Meter

24 Segment (-57 dB to Clip)

24 Segment (-57 dB to Clip)

120 W

Power Consumption

120 W

120 W

Standard Operating Temperature Range

5°C – 40°C (41°F – 104°F)

5°C – 40°C (41°F – 104°F)

Dimensions

891 x 612 x 256 mm (35.1 x 24.1 x 10.1″)

900 x 528 x 200 mm (35.4 x 20.8 x 7.9″)

Weight

25 kg (55 lbs)

20.6 kg (45.4 lbs)