Today we'll be looking at some affordable and cheap studio monitors for those who are on a really tight budget but don't want to use ordinary home stereo or computer speakers. These might not be the best studio monitor speakers but they do produce a good sound.
The big question might be, are these budget monitors useful for studio use – like recording, mixing and mastering?
The answer is always yes, but you'll have to spend more time studying and tweaking them to get the sound that you desire.
Don't expect any big bass sound on low budget studio speakers, they mostly have a good mid range and high frequency response. They're good if you're just starting out or can't afford professional studio monitors.
One last thing I have to mention before we jump right into the reviews, is that these studio monitors will work well and sound really good in a small room. So if you have a big room then you'll have to invest some more cash to get monitors that are suitable for the particular room.
1. M-Audio AV42 | 20-Watt Compact Studio Monitor Speakers with 4-inch Woofer (Pair)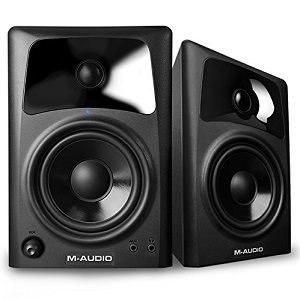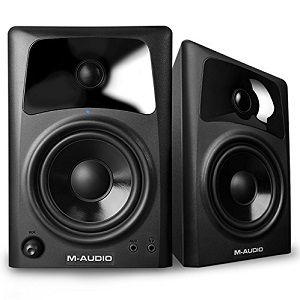 The M-Audio AV42 is a good choice for those who are on a tight budget and better than using ordinary desktop speakers. The speakers come with a 4-inch polypropylene-coated woofers for a more tight and accurate bass.
The silk dome tweeters have a clear and smooth high-end, the overall frequency response is well balanced.
Just make sure that you avoid clipping when doing production, mixing, mastering, listening to music or watching movies. Or else you'll burn the right speaker.
The M-Audio AV42 are low budget speakers and don't last long, so you'll have to upgrade in the near future.
Another disadvantage is that the cables are short but you can extend them easily. Overall, these are good monitors for beginners.
2. KRK RP5G3-NA Rokit 5 Generation 3 Powered Studio Monitor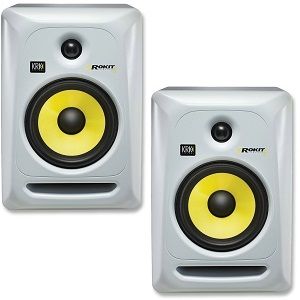 These are the most recommended budget and entry level studio monitors for music production.
The KRK RP5G3 are really versatile and suitable for most genres, including hip-hop.
The Soft-dome tweeter provides crisp high frequencies and extended response up of to 35kHz.
They have a good mid range response as well.
The bass will depend on the room but these monitors do provide a good bass response and the overall frequency response is pretty much accurate.
Really good speakers for the price.
3. Mackie CR4 4-Inch Creative Reference Multimedia Monitors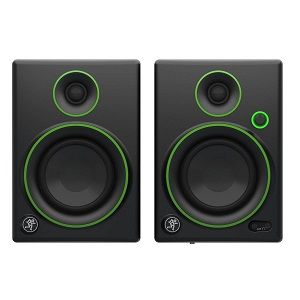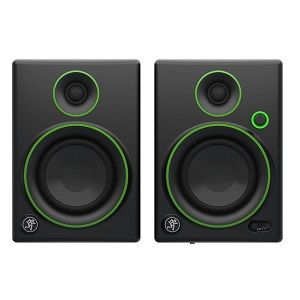 If you have a very small room and are looking for neutral sounding studio monitors then the Mackie CR4 are a good choice for you.
They don't have any colorization and good for sound reproduction as well as entertainment.
For small speakers, these have a good frequency response especially in the mid range and high frequencies.
If you're looking for more bass then these are not a good option.
Another problem is that the cables are short, which can be an issue for monitor placement.
Overall they sound really good and there's also a 3-inch version but I recommend you to get the 4-inch instead.
These are also loud for small speakers.
4. M-Audio BX5 D2 5″ Active 2-Way Studio Monitor Speakers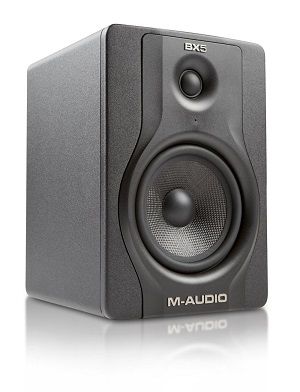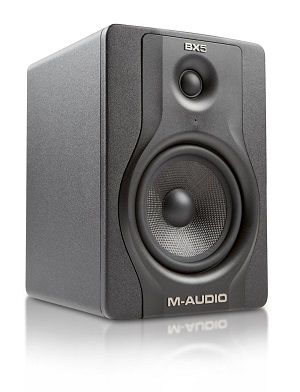 The M-Audio BX5 D2 is another good entry level music production pair of studio monitors.
Great speakers for those who're looking for something that is mid range focused, good for mixing vocals, guitars and other mid focused instruments and sounds.
The whole frequency spectrum for these monitors sounds pretty good for the price range.
They have a good mid range, not so bad high frequencies and a wimpy bass. The bass is not that tight but not bad either, meaning a beginner wont even notice.
But you can easily replace the wimpy bass with a sub-woofer or simply add an extra 100 bucks and get the BX8.
Overall these are good monitor speakers for people who're just starting they're audio production and engineering journey.
5. Presonus Eris E3.5 2-Way Powered Studio Monitor

Presonus Eris 3.5 is for you if you're looking for something to replace your home stereo or computer speakers then these will work just fine for you.
They're not real, near field studio monitors yet they are reasonably accurate and great sounding.
They have a good balance in the mid range and high frequencies, with a decent bass. Good for someone looking for small powered speakers and they also include room tuning controls.
The Presonus Eris E4.5 don't support USB, the monitors are really sensitive to loud volumes and the cables are short. Overall these are good speakers for beginners, they are compact and really worth the price.
6. JBL LSR305 (PAIR) Professional Studio Monitors
By Popular Request: The JBL LSR305 review was requested by most people who've visited this review post but they don't realize that the JBL LSR305 studio monitors are not less than $200, but I'll do it anyway.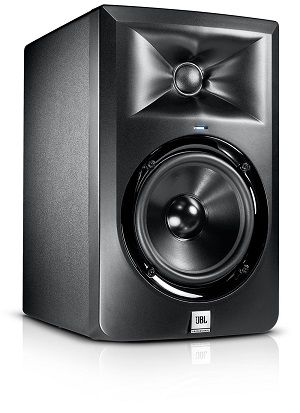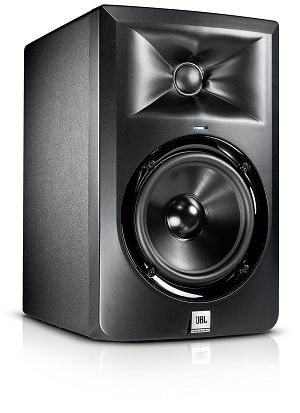 These are among a series of JBL's 3 series studio monitors. The LSR305 are 5 inch powered studio monitors that deliver a professional sound at an affordable price point. Great for a complete beginner, someone who wants to upgrade from ordinary PC or desktop speakers.
They sound good for audio playback, recording and maybe some mixing but not for high-end mastering. The 5 inch woofer delivers a nice bottom end, especially if you're in a small room. Great sounding high frequencies with good depth and ambiance.
I have to agree, these sound really good for such small speakers and they're really worth the price. You also get that distinct JBL design which is clearly different from other monitors on this list.
Closing Thoughts
This is a list of studio monitors I would recommend for someone who wants to spend less than $200.
Choose one that you think will be best suited for the type of music you make and the room you're working on. I'll review semi-pro studio monitors in the near future.
See you again tomorrow with another blog post, if you have any questions about studio monitors then leave a comment below and I'll be happy to help.