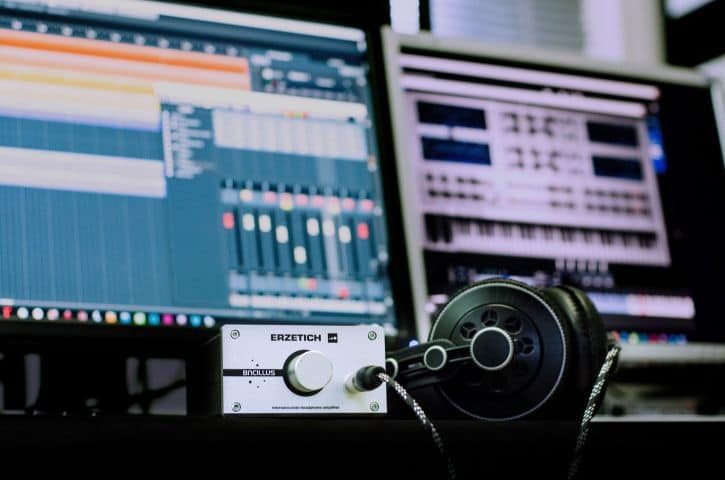 When you're getting into audio production, it's hard to know where to start in terms of the technology you need.
You probably have a computer already – but what else do you need to get up and running with audio production?
Fortunately, there are good premade home studio recording packages available to get you up and running – that are specifically made for beginner vloggers, podcasters, singer-songwriters, and home studio producers.
In this article, we'll take look at the 10 best home recording studio packages and what they include so that you can find a setup that fits your needs and start producing that juicy audio.
Ready? Let's roll…
10 Best Home Recording Studio Kits / Packages / Bundles Reviews

Check Price
Gear Included In The Package:
Audio interface:

Focusrite Scarlett 2i2 USB audio recording interface studio pack, 3rd gen

Microphone:

Large diaphragm CM25 condenser microphone + 3m, 10′ microphone cable

Headphones:

HP60 MkIII professional closed-back headphones

Stand:

AxcessAbles SF-101KIT microphone isolation shield with stand and pop-filter

Software:

Cubase LE,  Pro Tools | First Focusrite Creative Pack and Ableton Live Lite, Softube Time and Tone Bundle, Focusrite's Red Plug-in Suite, 2GB of Loopmasters samples, choice of one free XLN Addictive Keys virtual instrument, all available via download upon purchase and registration.
Almost every package you come across includes an audio interface (soundcard). This package features a popular model from Focusrite.
The audio interface features 2 x XLR-1/4″ combo inputs (mic, line, Hi-Z). This lets you record two inputs at the same time – microphone, line (synth, effects, mixer), or Hi-Z, also known as instrument input.
The Hi-Z input allows you to plug in your guitar (acoustic or electric) so you can record directly into your software – you don't need to buy a DI box.
Also in this package is a pair of professional headphones with a closed-back design.
The package comes with an isolation stand and pop-filter. With these, you can record vocals in any space, even ones with a less than ideal acoustics, and still get professional results.
This package from Focusrite is my premium pick if you're looking for a versatile home recording studio package. With inputs for 2 mics or instruments, a pro-level mic, headphones, and software, it's flexible enough to fit your production needs whether you're into electronic music, podcasting, or being a singer-songwriter.
Focusrite is known for the quality of their interface's circuitry, which gives this package the edge over the other interfaces listed here.
Pros:
Professional-level audio interface

Flexible setup for vocal and instrument recording
Cons:
No MIDI I/O

USB type C connection
---
Check Price
Gear Included In The Package:
Audio interface:

PreSonus AudioBox iTwo

Microphone:

PreSonus M7 large-diaphragm condenser mic

Monitors:

Eris E4.5 active studio monitors

Software:

Capture Duo recording software (iPad), Studio One
The audio interface in this package is iPad compatible, so if you like to be mobile and flexible with your recording location, this could be the setup for you.
The interface is also PC or Mac compatible, so you can take your mobile recordings back to the studio and continue to work there. The inputs are a lot like those on the Focusrite interface – two XLR-1/4″ combo (mic, line, Hi-Z) inputs.
Once back in the studio you can make use of the included active studio monitors. These aren't just a nice add-on – they'll help you learn how to mix properly and make your music shine.
The M7 large-diaphragm condenser mic is perfect for vocals or sources with an extended bass range such as bass guitars and synths.
The audio interface also features MIDI I/O, so if you have any MIDI equipment that you want to communicate with from the recording software, you'll need this. 
An iPad can work well as a mobile recording studio, and this is a great studio package to make that happen. This is also the best mobile setup in general on our list, but it works equally well at home – the interface-mic-monitor trio is good for a core studio setup.
Pros:
PC-, Mac-, iPad-compatible interface

Mobile recording friendly solution
Cons:
No mic-stand, pop-filter 

No mic cable
---

Check Price
Gear Included In The Package:
Audio interface:

Presonus AudioBox USB 96

Microphone:

PreSonus M7 large-diaphragm condenser mic

Headphones:

Presonus HD3 Headphones

Monitors:

Presonus Eris E3.5 active monitors

Software:

Studio One Artist
Here's a recording package with a little extra. Recording packages are often made for recording vocals and instruments. This one does that too, but also includes a USB MIDI keyboard.
This lets you record your melodies and beats directly into the bundled Studio One DAW, which is a more creative and real-time method than clicking with a mouse.
The pre-amps in this interface will make your recordings sound professional.The condenser mic also comes with a desktop tripod stand, which is of limited use. 
The HD3 monitors aren't ideal for mixing bass due to their smaller size, but they're fine for editing and auditioning your recordings. The headphones included in this package will help you make better judgements when mixing.
This package is perfect for bedroom producers who are also keyboard players.
Pros:
USB MIDI keyboard

Good pre-amps 
Cons:
No mic-stand

Pre-amps don't have line level input
---

Check Price
Gear Included In The Package:
Audio interface:

M-Audio AIR 192|4

Microphone:

M-Audio NOVA black large-diaphragm condenser mic with shockmount and XLR cable.

Headphones:

HDH40 monitoring headphones

Software:

Pro Tools | First M-Audio Edition, Ableton Live Lite, Eleven Lite, the Avid Effect collection, AIR's Creative FX collection, 2GB of sample content from Touch Loops and Xpand!2, Mini Grand, Vacuum and BOOM from AIR Music Tech.
This package is made for vocalists, whether they're singers, podcasters, or vloggers. The interface features an XLR, line level combo input on the back and a dedicated Hi-Z instrument input on the front.
The interface has a rugged construction, with a large central dial and useful metering that shows input levels. 
You can also balance the monitoring levels of what you are recording with what's in your recording software by using the USB/direct balance knob, which gives you zero-latency monitoring.
The large-diaphragm condenser mic comes with a shock mount. It's useful in keeping out unwanted noise that can travel up through the mic stand (although a mic stand isn't included in this package).
Although the interface has limited inputs, this package is a good option for vocalists or those working in-the-box who only need to record one or two extra vocals or instruments from time to time.
Pros:
Pro-level pre-amp

Bundled software
Cons:
---

Check Price
Gear Included In The Package:
Portable 8-track SD recorder

with handy USB connection

Microphone:

Built-in stereo condenser microphone

Extras:

Protective case, rechargeable batteries and charger, cables, 16 GB, Fibertique cleaning cloth (camera lens cleaner)
This package is something a bit different, but it's useful for interviews, podcasting, and vlogging.
This package isn't the best fit for producing music because its sample and bit resolution is limited to 44.1kHz / 16 bit. Pro audio needs to be at least 24 bit, and a sample resolution of 44.1kHz is not enough in some situations.
You can still use it for recording demos, developing ideas, band practice, etc, but not on your major music recordings.
That aside, it offers an ultra-portable, compact and easy-to-use multitrack recorder for those working between a mobile location and their home studio. It's great if you need to move around.
This Tacsam package also features a built-in stereo condenser microphone that you can use to make location recordings. It has all the connections you need to plug in any type of signal – mic, line, and instrument.
With 8 tracks to record onto and a powerful on-board mixer to sculpt your sound, this package is an alternative approach to working with a computer. 
Pros:
Ultra-portable

Non-computer solution for recording

Can run on batteries
Cons:
Limited sample and bit resolution

No external mics included
---

Check Price
Gear Included In The Package:
Microphone:

Blue Snowball USB microphone + pop filter

Software:

PreSonus Studio One Artist software

Headphones:

Samson professional closed-back headphones

Extras:

Fibertique cloth
On the face of it, there's not much to this package – there's no audio interface. But, if you only need to record vocals, a single instrument or performance, or just a small group of sources, this is a good solution.
The Blue Snowball USB microphone is a favorite of podcasters and vloggers. It produces professional results and has 3 recording modes: cardioid, omni, and cardioid with -10dB pad. 
What all that means is that it can record from many different directions – what's directly in front, in all directions, or a louder source directly in front. That makes it a good choice for all your interviews and discussion recordings.
With headphones and the Studio One software included, it's a recording package with all you need for podcasting.
Pros:
Compact setup

Produces professional sounding recordings
Cons:
Limited applications

One input only
---

Check Price
Gear Included In The Package:
Audio interface:

Behringer U-PHORIA UMC204HD

Microphone:

Tascam TM-80 large diaphragm with shockmount and tripod stand

Headphones:

Samson SR350 stereo headphones

Stand:

AxcessAbles SF-101KIT microphone isolation shield with stand and pop-filter

Cables:

6.5' 2RCA male to 2RCA male cable, dual MIDI to dual MIDI cable, 2 X ¼" TRS cable, 1 X XLR cable
This package gives you great versatility and extras at a lower cost than some of the other options listed here. 
You've got audio interface inputs like those in the Focusrite and Presonus interfaces: two XLR-1/4″ combo inputs (mic, line, Hi-Z). The mic pre-amps feature Pads that will help you when recording loud sources.
The mic-pre's on the interface are made by Midas, which is known for its mixing console and microphone pre-amp technology, so you get great sounding recordings on a budget.
A large diaphragm condenser mic from Tascam is ideal for vocals, acoustic instruments, and sources that have a wide frequency range.
There's quite a few extras here – you get a shockmount and tripod stand for the mic, some cables, and some headphones. The only thing that's missing is a proper mic stand and some usable software. 
This package is best for most people who need the options that the Focusrite Scarlett package offers, but at a lower price.
Pros:
Good audio interface with pro-level pre-amps

Extra cables
Cons:
No mic-stand

No DAW included
---

Check Price
Gear Included In The Package:
Audio interface:

Focusrite Scarlett Solo 3rd Gen USB audio interface

Microphone:

Audio-Technica cardioid dynamic vocal/instrument microphone and XLR cable

Headphones:

Tascam TH-03 closed-back over-ear headphone

Stand:

Knox Gear microphone suspension boom scissor arm and pop filter

Software:

Ableton Live Lite and Pro Tools First Focusrite Creative Pack
This is a scaled back version of the Focusrite package we talked about earlier. It's still powerful, but it costs less.
The audio interface only has a single mic input and a separate line/instrument input. If you're working solo, this will probably be enough for a lot of applications.
Instead of a condenser microphone, you get an Audio Technica cardioid dynamic microphone. Audio Technica is a professional mic manufacturer, so you'll still get good results.
The microphone stand is a boom type that you attach to a table. It's not perfect for every situation, but it works for most, particularly if space is an issue or if you work from one position.
With the Ableton and Avid software bundles, you have 2 great options to work with when you record and edit. 
The Focusrite Solo bundle is a good pick if you're looking for a budget setup for music production and vocal recording and only need to record a single mono external source. If you need more inputs than that, you should consider a different option from our list.
Pros:
Small setup

Good mic pre-amp
Cons:
Only one mic pre-amp

No condenser mic
---

Check Price
Gear Included In The Package:
Microphone:

Large diaphragm condenser with shockmount and pop-filter

Stand:

Suspension scissor arm stand

Cables:

USB adapter, XLR to IEC
This is a super basic package, and that's reflected in the price. It will suit those who like the Blue Snowball mic are working with a tight budget.
This package includes a large diaphragm condenser microphone, which is the mic type featured in most of these packages. Considering the package's price, it won't produce incredible results – but depending on what you want to use it for, it just might work.
A package like this will produce adequate, not amazing results. If you're interested in vlogging on YouTube or setting up a Podcast and want to test some things out, this is a cheap way to start. You can upgrade later when you have a better understanding of what you need.
For all these reasons, this is my budget pick for getting started.
Pros:
Cons:
Not super hi-fi

No headphones
---

Check Price
Gear Included In The Package:
Microphone:

sE Electronics X1 S large-diaphragm condenser mic

RF-X Reflexion Filter
sE Isolation Pack

(with pop shield)

Extras:

XLR cable
This package is good if you already have a basic studio setup for vocal recording. When you need great isolation in a difficult space, this is a great solution.
The microphone and the reflexion filter included here are similar to those in the Focusrite Scarlett Studio Pack – but these will produce even more professional sounding results. 
Recording vocals in your bedroom or budget studio can be a challenge. Packages like this can help you overcome acoustic problems. 
The condenser microphones listed in the other packages will produce similar results, but the mic in this package is definitely a step up. 
Pros:
Pro-level mic

Excellent isolation
Cons:
Stand is top-heavy

Pop-filter could work better
---
Best Home Recording Studio Packages Buyer's Guide

What to look for when buying a readymade home recording studio kit?
Luckily, these days, you can get a home recording studio package that will let you create the type of productions you want, no matter your budget.
That being said, you need to choose the right package for your needs and something that will work as a foundation for you to build upon.
Let's look at some essential items in these packages.
Recording software
Whether you're using a Mac, PC, or iPad, you'll need some recording software to produce. While there are some free options available, it's useful to get a package that comes with a DAW.
Industry-standard software like Ableton Live, Cubase, Pro Tools, and Studio One are powerful tools, and "lite" versions of this software come with some packages listed here.
Lite software is a good starting point. Many are more than powerful enough to produce the tracks you want.
Audio Interfaces
Unless you're using a standalone recorder like Tascam's DP-008EX 8-Track Digital Pocketstudio, you'll need a way of getting signals into your recording software.
All the interfaces discussed here are USB, so connecting them to your computer shouldn't be a problem.
You'll need to think about the type of sources you want to record – vocals, acoustic instruments, and the musical equipment you want to plug in, synths, effects, mixers, etc.
Microphone signals to record vocals and acoustic instruments require XLR connections. Synths, mixers, and effects need 1/4" jack line inputs. If you want to plug your guitar (acoustic, electric, bass) directly into your interface, it will need a 1/4" Hi-Z instrument input.
A lot of interfaces have combo inputs, with XLR, line, and instrument inputs available in one connection.
If you need to plug MIDI equipment into your system, there are some options available from our list.
All the interfaces listed have direct monitoring with zero latency. That means there's no audible delay when monitoring a performance, which is exactly what you want.
Microphones
All the microphones in these packages, apart from one, are condenser microphones. (The Focusrite Solo Bundle features a dynamic microphone.) This is not to say that condensers are better than dynamic microphones, but they're often better for vocal recording.
With USB microphones, the advantage is that you won't need to buy an audio interface. The disadvantage is that you can't record 1/4" line, instrument-level signals. That's not an issue if your focus is vocal recording – podcasting, vlogging etc. – but it's more of an issue for other productions.
You can always start off with a basic setup and then expand on that when your skills develop and you've got more complex recording needs.
Conclusion and Takeaway
My premium pick for those with a bit more to spend is the Focusrite Scarlett Studio Pack. It has the most features and produces the most professional-sounding results. It will satisfy your production needs for quite some time, so the initial investment pays off. 
The package I recommend for most people is the Behringer U-PHORIA Package. It offers similar options to the Focusrite Scarlett Studio Pack, but the less sturdy build quality makes it cheaper.
For those whose budget is super tight or just want to start experimenting with some vocal or instrument recording, I would recommend the ZINGYOU Condenser Microphone Bundle. It's so cheap, it's a no-brainer.