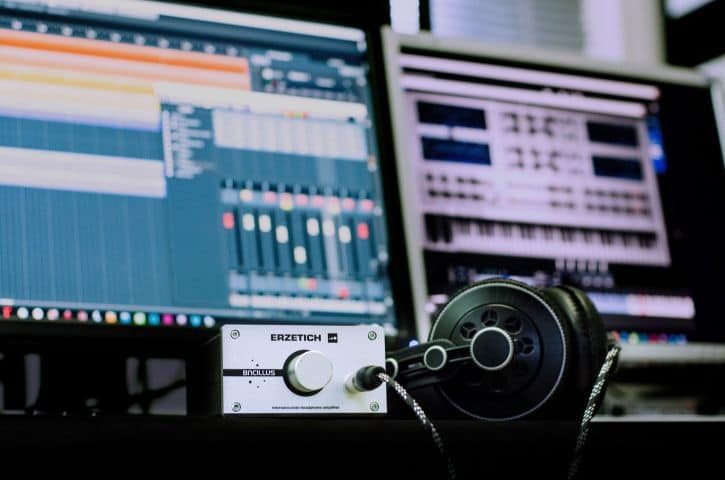 When you're getting into audio production, it's hard to know where to start in terms of the technology you need.
You probably have a computer already – but what else do you need to get up and running with audio production?
Fortunately, there are good premade home studio recording packages available to get you up and running – that are specifically made for beginner vloggers, podcasters, singer-songwriters, and home studio producers.
In this article, we'll take look at the 10 best home recording studio packages and what they include so that you can find a setup that fits your needs and start producing that juicy audio.
Ready? Let's roll…
10 Best Home Recording Studio Kits / Packages / Bundles Reviews
Best Home Recording Studio Packages Buyer's Guide

What to look for when buying a readymade home recording studio kit?
Luckily, these days, you can get a home recording studio package that will let you create the type of productions you want, no matter your budget.
That being said, you need to choose the right package for your needs and something that will work as a foundation for you to build upon.
Let's look at some essential items in these packages.
Recording software
Whether you're using a Mac, PC, or iPad, you'll need some recording software to produce. While there are some free options available, it's useful to get a package that comes with a DAW.
Industry-standard software like Ableton Live, Cubase, Pro Tools, and Studio One are powerful tools, and "lite" versions of this software come with some packages listed here.
Lite software is a good starting point. Many are more than powerful enough to produce the tracks you want.
Audio Interfaces
Unless you're using a standalone recorder like Tascam's DP-008EX 8-Track Digital Pocketstudio, you'll need a way of getting signals into your recording software.
All the interfaces discussed here are USB, so connecting them to your computer shouldn't be a problem.
You'll need to think about the type of sources you want to record – vocals, acoustic instruments, and the musical equipment you want to plug in, synths, effects, mixers, etc.
Microphone signals to record vocals and acoustic instruments require XLR connections. Synths, mixers, and effects need 1/4" jack line inputs. If you want to plug your guitar (acoustic, electric, bass) directly into your interface, it will need a 1/4" Hi-Z instrument input.
A lot of interfaces have combo inputs, with XLR, line, and instrument inputs available in one connection.
If you need to plug MIDI equipment into your system, there are some options available from our list.
All the interfaces listed have direct monitoring with zero latency. That means there's no audible delay when monitoring a performance, which is exactly what you want.
Microphones
All the microphones in these packages, apart from one, are condenser microphones. (The Focusrite Solo Bundle features a dynamic microphone.) This is not to say that condensers are better than dynamic microphones, but they're often better for vocal recording.
With USB microphones, the advantage is that you won't need to buy an audio interface. The disadvantage is that you can't record 1/4" line, instrument-level signals. That's not an issue if your focus is vocal recording – podcasting, vlogging etc. – but it's more of an issue for other productions.
You can always start off with a basic setup and then expand on that when your skills develop and you've got more complex recording needs.
Conclusion and Takeaway
My premium pick for those with a bit more to spend is the Focusrite Scarlett Studio Pack. It has the most features and produces the most professional-sounding results. It will satisfy your production needs for quite some time, so the initial investment pays off.
The package I recommend for most people is the Behringer U-PHORIA Package. It offers similar options to the Focusrite Scarlett Studio Pack, but the less sturdy build quality makes it cheaper.
For those whose budget is super tight or just want to start experimenting with some vocal or instrument recording, I would recommend the ZINGYOU Condenser Microphone Bundle. It's so cheap, it's a no-brainer.