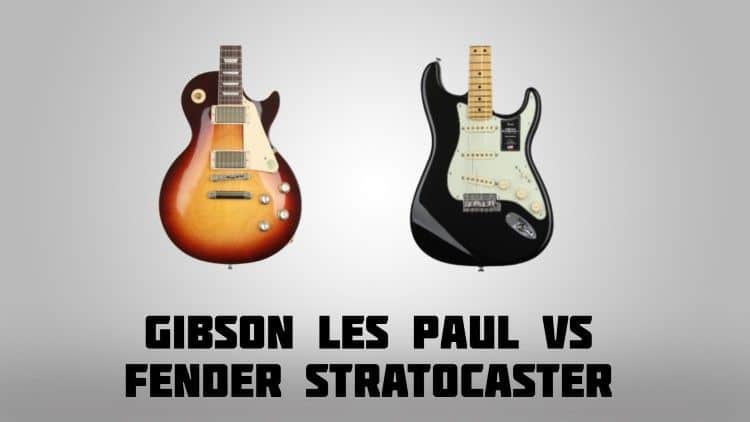 Despite all advancements in the world of guitar, it seems that perfection was achieved in the 1950s. Even to this day, Gibson Les Paul and Fender Stratocaster are still the "golden standard." It seems that every guitar is based on these two models. But here's the million-dollar question – which one is better?
Here's what we'll cover in this Gibson Les Paul vs Fender Stratocaster comparison:
Main Specifications
Pickups and Electronics
Hardware
Design
Tone
Performance and Playability
Price & Value For Money
Pros & Cons
Ready? Let's get started…
---
Which One Are YOU Leaning Towards?
---
Main Differences: Gibson Les Paul and Fender Stratocaster
The main differences between Gibson Les Paul and Fender Stratocaster are:
Tone
Design
Build materials used
Performance
So when it comes down to Gibson Les Paul vs Fender Stratocaster, which one should you choose? Here's a quick overview:
Go for Gibson Les Paul if you like a "beefier" tone, one cutaway, and a slightly larger neck. They're versatile, but with two humbuckers you mostly get options for heavier or a smoother tone. They're good for hard rock, metal, blues, and jazz.
Go for Fender Stratocaster if you prefer a brighter and "twangy" tone. Additionally, Fender Stratocasters almost exclusively come with tremolo bridges and three single-coil pickups. They're sonically versatile, but they're usually popular in funk, classic rock, blues, and some metal subgenres.
1. Main Specifications: Gibson Les Paul vs Fender Stratocaster
Main Specifications: Gibson Les Paul
Conceived back in 1952, Les Paul was intended as a solid body electric guitar with two P90 pickups. Later on, it was turned into a dual-humbucker guitar, and this variant remains the most common one.
We have a single-cutaway body guitar here. The body is relatively thick and the guitar has been known for being weighty. However, more recent models come with weight relief, like hollowed-out chambers in the body.
Les Pauls almost exclusively come with mahogany bodies that have maple tops. There have been some other variants, but Gibson still keeps to this old combo.
The necks are also made out of mahogany and they form a set-in formation with the body. These necks are accompanied by rosewood or ebony fretboards with 22 frets. Les Paul's scale length is 24.75 inches.
Gibson Les Pauls come in plenty of variants. We have the Standard, Custom, Junior, Special, Traditional, Studio, and a few others. But the main specs are often the same. Only the Junior and Special variants are noticeably more modest.
Main Specifications: Fender Stratocaster
Fender Stratocaster was originally released in 1954 as a response to Gibson's Les Paul. They remain almost unchanged to this day. The main trait is an asymmetrical double-cutaway body design, as well as contoured body edges.
Here we have a solid body instrument with an alder body. What's interesting is that the neck is bolted onto the body. The necks are made out of maple and most commonly come with maple fretboards. Some variants may include rosewood fingerboards, like Strats made in the 1960s, or those that are inspired by 1960s Strats.
Fender has usually made Stratocasters with 21 frets. There are some variants with 22 or 24 frets, but these are not considered to be the "standard." Likewise, Strats come with a scale length of 25.5 inches, which is the longest for regular 6-string guitars.
Main Specifications: Bottom Line
Looking at the basic specs, it's pretty obvious that we have two completely different instruments. Single-cutaway and double-cutaway design. Then we also have two different scale lengths, two different neck joints, and two completely different choices of material.
Overall, we'd say that it's impossible to select the "best" of these two. These are just completely different guitars in terms of main specs. It comes down to what the player prefers, or what the given setting requires.  
Main Specifications Winner: Tie
2. Pickups and Electronics: Gibson Les Paul vs Fender Stratocaster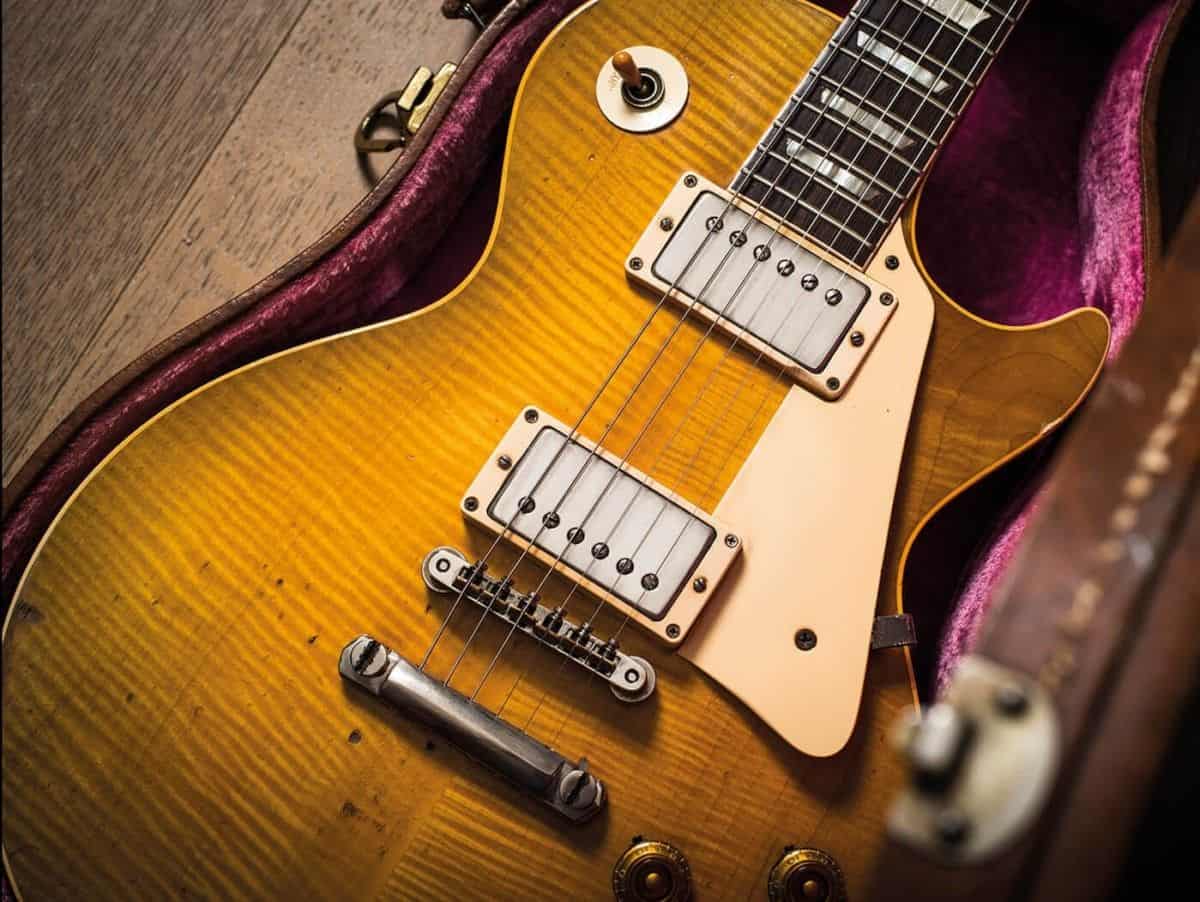 Check Latest Price
Pickups and Electronics: Gibson Les Paul
The Les Paul most commonly comes with two humbucker pickups. Originally, the guitar was intended to have two P90 single-coil pickups, and some variants have this same formation to this day.
Other combinations may include one humbucker and one P90 single-coil, as well as just one P90 in the bridge position. Some very rare cases may include regular single-coil pickups.
But the dual-humbucker is the most common formation. This is also followed by a 3-way switch and four control knobs. Each pickup has individual controls for master volume and master tone.
Overall, Les Pauls can be versatile. With its four knobs, you can achieve different stuff. However, the Les Paul Junior variant comes with only one single-coil pickup, which limits its versatility.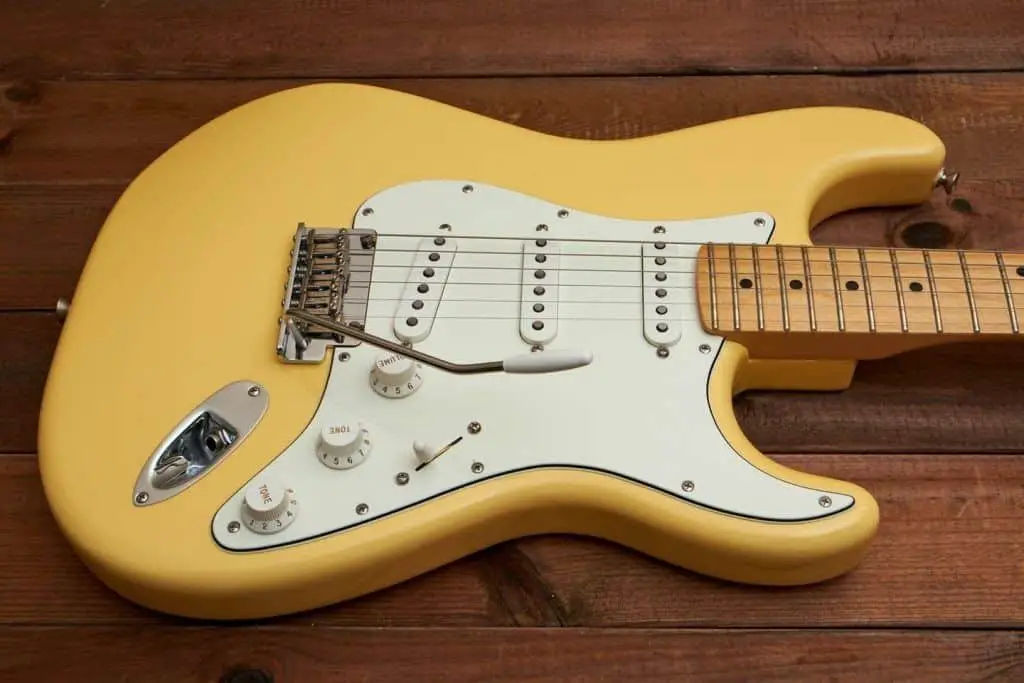 Check Latest Price
Pickups and Electronics: Fender Stratocaster
Fender Stratocasters almost exclusively come with three single-coil pickups. Other options also include humbucker-single-single, dual humbucker, and even humbucker-single-humbucker variants.
The regular Strat variant comes with a 5-way pickup selector switch for its three pickups. There are usually three knobs on it. One knob is volume control, while the other two are treble roll-off controls. Some Strats may also include additional controls, but these are usually high-end models.
Pickups and Electronics: Bottom Line
Once again, it's pretty obvious that we have two completely different guitars on our hands. The standard configuration of a Les Paul is two humbuckers, a 3-way selector switch, and four knobs. Meanwhile, an average Stat has three single-coils, a 5-way selector switch, and three knobs.
Objectively, both guitars have great pickup and electronics configurations and have set the standards for future generations of instruments. However, we'd give a slight advantage to Fender Stratocaster here.
With a 5-way selector switch, you have a much more nuanced palette of tones. It goes from sharp, through "twangy," and all the way to smooth and "creamy."
Of course, the choice was tough. This doesn't make Gibson Les Paul a "worse" guitar in any way. They're just different. But if you ask us, we couldn't help but give Fender Strat more advantage.
Pickups and Electronics Winner: Fender Stratocaster
3. Hardware: Gibson Les Paul vs Fender Stratocaster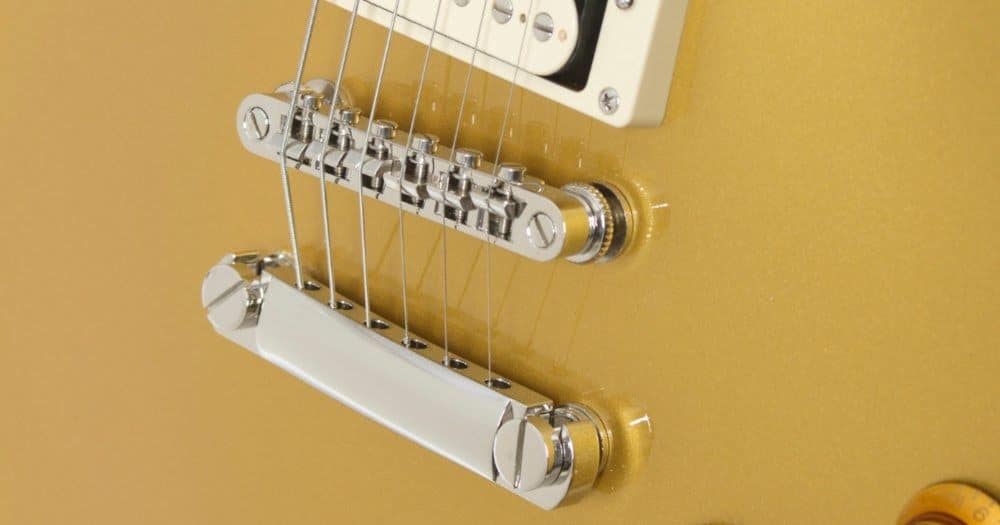 Check Latest Price
Hardware: Gibson Les Paul
Gibson's Les Paul model pushed the boundaries in terms of hardware as well. Back in the 1950s, Gibson came up with the ABR-1 type of bridge, or the so-called "tune-o-matic."
Well, even to this day, Gibson Les Paul guitars have this same bridge. Its design is completely the same. We even have the same "stopbar" tailpiece system.
Some variants, like the Les Paul Junior, have a stopbar tailpiece without the tune-o-matic bridge. Although not very adjustable, it's a simple solution.
The tune-o-matic bridge, on the other hand, can be useful for intonation. It has become a standard on other models as well.
These days, Les Pauls usually come with Grover tuning machines. Those old-school-oriented models come with vintage closed-back Kluson tuning machines, which have more of an aesthetic rather than functional value. But all variants are side-mounted and Gibson usually has quality tuners, so you won't have to worry about that.
There are some very rare cases of Les Pauls with tremolo bridges. These can either be Bigsby-style tremolos or even Floyd Rose bridges. They're only present on some prestigious variants.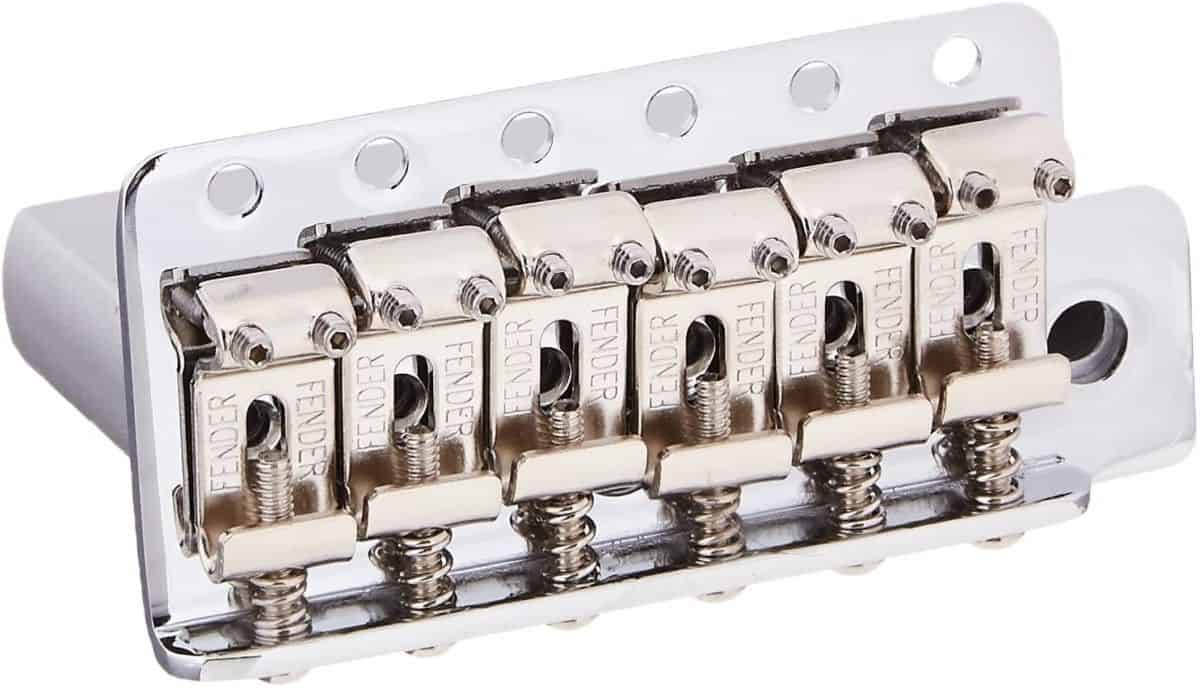 Check Latest Price
Hardware: Fender Stratocaster
Fender also kept their classic stuff from the 1950s. A regular Stratocaster comes with a tremolo bridge with block saddles, the kind that was designed by the company a long time ago.
Now taken for granted, the Fender tremolo was a groundbreaking invention in the 1950s. We have three springs in a hollowed-out part of the body's backside. They return the bridge back to the initial position when you release the tremolo arm.
Block saddles are pretty easy to use. You have two hex-key adjustable screws for the string height and a Phillips-head screw for intonation. These features help you achieve tuning stability and impeccable intonation.
"Floating" tremolo bridges are also not uncommon for some Fender Stratocaster variants. We can even find some Strats with Floyd Rose tremolos.
Fender has their own branded closed-back tuning machines that come on almost all Strats. They're fairly decent and keep the instrument's tuning stable. Some Strat variants come with Kluson tuners, but they're not that common.
Hardware: Bottom Line
Although Les Pauls and Stratocasters are different in terms of hardware, we'd say that it's easy to pick a winner here. Although Gibson's stuff is certainly not bad, Fender Strats have objectively better hardware.
Having block saddles with two small hex screws and one Phillips-head screw on the back makes it really easy to adjust. On the other hand, tune-o-matic bridges can be a bit tricky, and even annoying, to properly set up.
Additionally, Fender's truss rod is much easier to adjust, using a regular ⅛-inch hex key. Whereas with Gibson Les Paul, you have to remove a cover and use a specialized key for adjustment.
Hardware Winner: Fender Stratocaster
4. Design: Gibson Les Paul vs Fender Stratocaster
Design: Gibson Les Paul
The guitar was conceived by Les Paul himself, thus its name. The main idea was to have a solid-body guitar with one cutaway. There are some LP Junior double-cutaway variants, but they're not that common.
Although it's kind of a subjective thing, it's hard not to notice Gibson Les Paul's aesthetic appeal. Firstly, we have a very balanced body shape. This is accompanied by arched maple tops, giving Les Pauls a classy and stylish twist.
Some variants, like Junior or Special, come without this top, so they're more "ordinary"-looking. But regular and more prestigious models can come with binding on the body and the neck, as well as fretboard inlays.
But all Les Pauls come with Gibson's trademark "open book" headstock shape, bearing three tuning machines on each side. The design differs slightly depending on the model. However, they're all at a 17-degree angle to the neck. The most interesting part is that the neck and the headstock are from one piece of wood.
While this brings some advantages, such a design makes the headstock fragile. Les Pauls are known to have easily breakable headstocks.
Design: Fender Stratocaster
Again, we have an old classic design from the 1950s that still remains to this day. It's a double-cutaway instrument with asymmetrical horns, an "offset" waist, contoured body edges, and other ergonomic features on the body.
The headstock is another famous trait, bearing the classic Fender look with 6 tuners mounted on one side. Over the years, Fender did some design changes, making it larger on some variants. With that said, the headstock isn't angled at all. It goes straight from the neck.
Overall, Fender's body and neck design is a very balanced combination of ergonomic and visual qualities. Of course, they come with many different finish options and some modifications if we're talking about specific models. But you can always notice that it's the Fender Stratocaster.
Design: Bottom Line
If it ain't broken, don't fix it – this is what applies to both Gibson and Fender designs. They did change some stuff, but it's barely noticeable.
Both instruments have set the standards both in terms of aesthetics and ergonomy. They both look great so it comes down to personal choice.
Therefore, we can't really say which one is better. They're both awesome in their own way.
Design Winner: Tie
---
Which One Are YOU Leaning Towards?
---
5. Tone: Gibson Les Paul vs Fender Stratocaster
Tone: Gibson Les Paul
Traditionally, Gibson guitars, especially Les Paul models, have been known for their tone. Although there's some versatility thanks to its controls, it can generally be described as darker, smoother, and heavier.
Gibson had their own specific humbucker pickups, the so-called "PAF." These have been used the most on Les Paul variants.
However, we have a variety of humbuckers on Les Paul models these days. They usually all focus on the heavier and darker side of things.
A lot of Les Pauls also have P90 pickups. These are single-coil pickups, but they add some "beefiness" to the otherwise bright tone.
Additionally, mahogany bodies with maple tops add to the raw power of Les Paul's tone. This is especially the case with chambered bodies.
Another thing Les Pauls are known for is the sustain. The instrument's headstock and neck design are of great importance here. The angled headstock, single-piece neck and headstock, and the set-in body and neck help you keep the note going for a long time.
Tone: Fender Stratocaster
On the other hand, Fender Stratocasters are known for their sharp and tight tone. They might not have the sustain, but the guitar has that well-known "twang" and "jangle" in the tone.
This is mostly due to the guitar's single-coil pickups. However, even the variants that come with one or more humbuckers have a brighter tone. The body and the neck design contribute to this.
One of the most interesting things about Stratocasters is the rich palette of tones. With a 5-way switch, you can get a lot of stuff done. This is especially the case with second and fourth positions that have those "sparkling" kinds of tones.
Although overall "thin"-sounding, an average Stratocaster can get heavy. Just select the bridge pickup, dial down the tone knob, and you'll get closer to the humbucker sound.
Tone: Bottom Line
It's kind of hard to compare the tone of these two guitars. It's not because one is better than the other, but because they're so different.
What's really interesting is that they can be used for similar genres. Some exceptions may be funk and disco music where Gibson Les Paul probably wouldn't be the best option.
The tone quality is usually subjective. Les Pauls have traditionally been used for heavier and darker stuff, while Strats find their way in reggae, funk, pop, and classic rock.
Tone Winner: Tie
6. Performance and Playability: Gibson Les Paul vs Fender Stratocaster
Performance and Playability: Gibson Les Paul
Les Paul necks may be a bit thicker, but they feel awesome under your fretting hand. With the right setup, they can be real mean shred machines. Other qualities include improved sustain and great tone-shaping options.
But we can't ignore some of the downsides which are due to some old design traits that Gibson just doesn't want to change. It's not uncommon for them to have tuning stability issues.
But arguably the biggest problem is the fragile headstock construction. Although it helps with sustain and gives it a great look, Gibson headstocks are easily breakable.
Don't get us wrong, Gibson Les Pauls are far from bad guitars. But they require more care compared to other brands.
Performance and Playability: Fender Stratocaster
Fender Strats are one of the most enjoyable guitars to play. Even with a vintage-oriented fretboard radius of 9.5 inches (in most cases), they're very potent tools for virtuosic players.
They're also great with the access to higher frets, although the bolt-on construction may not sit well with everyone.
Stratocaster has two strong sides – reliability and sonic versatility. You usually won't hear anyone complaining about tuning stability. And although not as heavy as Les Paul, it can be turned into a metal guitar with some minor knob tweaking and proper gear.
Some players might not like the lack of sustain and such a bright tone. But, on the other hand, this is an advantage for specific musical styles.
Another advantage also comes down to the volume knob placement. It's pretty close to the strings, making it easy to do adjustment as you play.
Performance and Playability: Bottom Line
While some may like how Les Paul guitars feel, we can't help but put the Stratocaster as the winner of this category. They're often more reliable and can give more sonic options.
Additionally, Strat's necks usually feel very comfortable and the access to higher frets is easier. This is why some of the more virtuosic players often prefer it over the Les Paul.
Performance and Playability Winner: Fender Stratocaster
7. Price & Value For Money: Gibson Les Paul vs Fender Stratocaster
Price & Value For Money: Gibson Les Paul
So let's address the elephant in the room. Gibson guitars are very expensive. Even the cheaper models have price tags that make you wonder whether it's worth it.
This is a minefield of a topic. Les Paul guitars aren't bad, but they can be overpriced. Additionally, Gibson hasn't been very good with quality control and ergonomic traits have remained the same since the old days. And let's not forget the easily breakable headstock.
You should generally be very careful when buying any Gibson guitar. What's more, plenty of guitar players would argue that they're not worth the price at all and are going with Epiphone or even PRS guitars instead.
Of course, there are plenty of Les Paul variants out there. But these issues apply to all of them.
Price & Value For Money: Fender Stratocaster
Although almost unchanged from the 1950s, the Fender Stratocaster overall design works for a wide variety of guitar players. Aside from great performance qualities, the Strat's reasonable pricing is why it's a go-to guitar for so many guitarists.
Of course, there's a wide variety of models. But each of them is priced accordingly. Fender Player Stratocaster is the cheapest one, yet it still brings most of the expected and classic features and qualities.
Price & Value For Money: Bottom Line
It's not a secret that Gibson Les Pauls are often overpriced. It's baffling how even some simpler variants can be so expensive. Honestly, this category was an easy win for the Strat.
Sure, Les Pauls have their following, mostly for their specific tone. However, they can't compete with Fender's consistency and reliability, all within reasonable price limits.
Price & Value For Money Winner: Fender Stratocaster
8. Pros & Cons: Gibson Les Paul vs Fender Stratocaster
Gibson Les Paul Pros & Cons
Pros:
Great tone for heavier stuff
Easy to play
Unique and very stylish design
Great prolonged sustain
Cons:
They're quite often overpriced
Some models may have performance issues
Fender Stratocaster Pros & Cons
Pros:
Consistent and reliable
Very comfortable to play
Great variety of tones
Cons:
It may be difficult to produce some heavier and darker tones
Conclusion & Takeaway
To summarize our findings in this Gibson Les Paul vs Fender Stratocaster comparison, here are the winners for each category:
Main Specifications – Tie
Pickups and Electronics – Fender Stratocaster
Hardware – Fender Stratocaster
Design – Tie
Tone – Tie
Performance and Playability – Fender Stratocaster
Price & Value For Money – Fender Stratocaster
Overall: 
---
Which One Are YOU Leaning Towards?
---
The great rivalry between Les Paul and Strat will never end. And it's extremely hard to give an objective consensus as both guitars are specific and have their advantages. Therefore, even our judgment here may not be perfect, so don't take it too seriously.
With that said, we can't help but notice a disparity in price and quality with most Gibson Les Paul variants. Fender is most often a "safer" choice and it has been implemented in pretty much all genres.
Gibson Les Pauls are those "big name brand" guitars. You'll often see non-experienced casual players buying them just for their name. So their value has been hugely overrated.
This doesn't mean that you shouldn't consider buying a Les Paul. Just bear in mind that they have a more specific following.
Products Comparison Table:
| | | |
| --- | --- | --- |
| Spec / Feature | Gibson Les Paul | Fender Stratocaster |
| Body material | Mahogany with maple top | Ash, alder |
| Neck material | Mahogany | Maple |
| Fingerboard material | Rosewood, ebony | Maple, rosewood, pau ferro, ebony |
| Scale length | 24.75 inches | 25.5 |
| Pickup configuration | Two humbuckers, two P90s, one P90, humbucker + P90 | SSS, HSS, HSH |
| Controls | 2 x volume, 2 x tone | 1 x volume, 2 x tone |
| Bridge | Fender block saddle tremolo bridge, various "floating" tremolo bridges | Tune-o-matic with a stopbar tailpiece, wraparound |