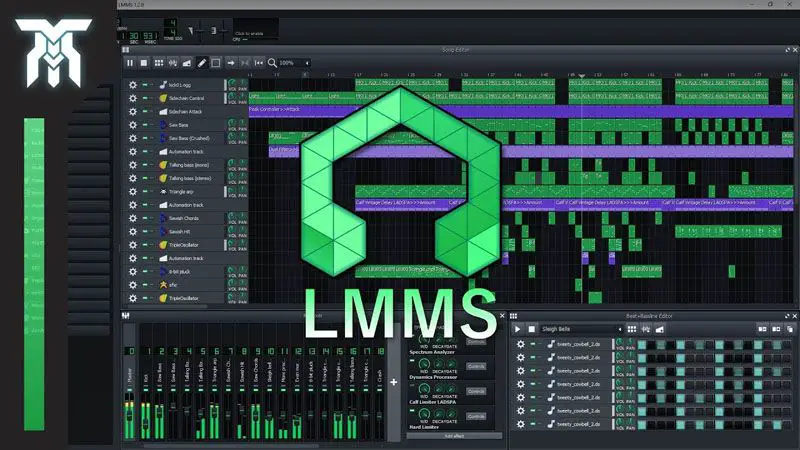 With such a huge selection of free and paid digital audio workstations (DAWs) to choose from, it's tough to pick the right one for your needs.
This article is our review of LMMS.
While not new, LMMS one of the more popular free DAWs currently available.
Originally made for Linux, the software is also available for Windows and macOS operating systems – all free of charge.
But does it live up to the hype of being one of the best free DAWs out there?
Let's find out…
Getting to know LMMS
At first, LMMS can appear a bit daunting – it loads with numerous floating windows that can seem overwhelming. But after scrolling around for a bit and a quick browse of the manual, everything became clearer.
One thing I liked is that the software does have a useful "What's this?" function. When activated, it causes a pop-up window to appear when clicking on items in the interface, giving a short summary of their functionality. 

After about 15 minutes of playing around with it, the interface was quite simple and intuitive to use. It's also customizable, giving you access to all the common functionality expected from a DAW:
importing
editing
and sequencing both audio and MIDI
While the recording of MIDI into LMMS is possible, it is not possible to record audio which might be a deal-breaker for some, though for some bedroom producers this will not be an issue. 
LMMS also comes with an array of audio samples, built-in virtual instruments, and effect units. Once installed you can dive straight in to start producing tracks.
Virtual Instruments
LMMS comes with a host of useful instruments that emulate classic sounds from the electronic music canon. I particularly liked Roland's TB-303 – the classic bassline machine, perfect for producing retro subby basslines or squelchy acid leads.
Continuing the retro theme, the software also features instruments based on the Commodore 64 and Nintendo's NES and GameBoy, perfect for creating Chiptune inspired music.
If that is not your bag of beans, there is also a selection of synthesizers offering various synthesis types:
FM
Wavetable
Subtractive
Additive
Physical
So whatever type of electronic sound you are searching for, LMMS has you covered. 

Sounds and Samples
While there are dedicated tracks for dealing with audio, there are also multiple sample-based instruments that seem to support every format imaginable including wav, aiff, mp3, and FLAC as well as Soundfonts (.SF2) and Giga (.gig) formats, for which there is plenty of free content available online. That was a neat surprise!
In relation to VST instrument (VSTi) support it does not offer support for all VSTi's – but perhaps this is something that will come with future updates. You can check their documentation for more information and development plans.
Audio Effects and Sound Processing
The limited number of audio effects that come with LMMS can be expanded due to LADSPA plug-in support and VST effect plug-in support (only for Linux and Windows).
Support for the LADSPA format is interesting as I have only ever come across this format before while using Audacity.
There is a great selection of free plugin devices available in this format covering all the typical effects in addition to experimental and unusual ones, which is useful for those interested in sound design or left-field music. Good stuff!
Some Cool Features
There is a vast array of synthesis types on offer. Such a comprehensive selection is often lacking from even commercially available DAWs. So whether you need a rich sound palette to choose from or are just interested in educating yourself on what is out there – LMMS will keep you busy.
When creating a MIDI part you can input note information using either:
A MIDI keyboard
Drawing with the mouse
Or using your computer's keyboard 
You can pick a scale and also select to draw in chords based on a root note in LMMS's standard piano-roll type editor. These are two incredibly useful features to speed up the composition process and a powerful feature for those whose musical theory knowledge is lacking – myself included.
The audio mixer is not as fully featured as other DAWs but it contains powerful routing options that compensate for this. Sometimes less is more, so having fewer distractions can help you focus on the most important thing – creating music.

Finally, there is a "Controller Rack" feature that implements LFO modulation on various devices in your project. It's a powerful feature for adding life and movement to sounds. While it is an advanced feature, you'll definitely appreciate it after you've passed the beginner phase.
Summary & Takeaway
Pros of LMMS
Free but powerful
The combination of native and LADSPA offers plenty of processing options
Workflow similar to FL Studio
LMMS Cons
No VST support for macOS
The mixer setup might be too limited for some.
No audio recording option
If you're new to music production, LMMS is one of the better free DAW options to dip your toes in, explore, and see what works best for you. 
It has enough functionality for beginners interested in electronic music production. It also has a useful library of built-in instruments and effect devices to allow you to get creative and complete full tracks. 
If you're already familiar with music production using their library of VST devices… you might need to look elsewhere. As mentioned above, the lack of audio recording support could be a deal-breaker. Mac users seem to be somewhat ignored in terms of VST support when compared with Windows users. 
Remember – LMMS is not the only free DAW in town so there is definitely room for improvement. But it's one of the best ones out there.
Frequently Asked Questions
Is LMMS Good For Making Beats?
Overall, it gets the job done. There is a type of track within LMMS called "Beat/Bassline". This allows 2 methods for creating beats; using a step sequencer or the piano-roll. There is an instrument that comes with the software called "Kicker" – as the name suggests, it is a powerful tool for designing kick drums, but can just as easily be used for creating snares, hi-hats and other forms of electronic percussion. This is an excellent alternative to just relying on pre-made samples.
LMMS vs FL Studio
Using LMMS reminds me of FL studio – both DAWs share similar features and workflow. So you could use LMMS as a free FL Studio alternative to dip your toes into the world of music production. And who knows – maybe it will even be enough for your needs long-term.
LMMS vs Reaper
Reaper is another feature-rich DAW that is popular partly due to its low price tag (for non-professional use). Reaper has more bells and whistles than LMMS but my impression is that LMMS is improving with each update – so the two DAWs might even compete in the future.
LMMS vs Ableton Live
Ableton Live is a top player in the world of electronic music production. It is not really fair to compare it to LMMS, as Ableton will win every time. But after using nearly every DAW out there, I can say that you do not always require a powerhouse application to produce your ideas.