The acoustic guitar still plays a major role in today's music industry especially in country, folk, pop, blues, soul and many other genres.
Over the years, pro audio engineers have found that certain mics record the sound of the acoustic guitar better and are well designed for the job.
So to save you the research and help you make a better choice here's a list of the best microphones for recording acoustic guitar.
1. Shure SM81

The SM81 is a small-diaphragm mic with a uniform cardioid pickup pattern.
When it comes to recording an acoustic guitar, The Shure SM81 has been an industry standard for decades…
It delivers a transparent and clear sound that is comparable to premium tube microphones.
The mic is very light which makes it easy to position than most and it handles loud sound sources better.
That makes the SM81 capable of handling acoustic guitar amplifiers and other loud instruments.
If you're looking for a reliable acoustic guitar microphone that doesn't color your sound, the Shure SM81 gets my top recommendation.
2. Mojave Audio MA-200 Tube Mic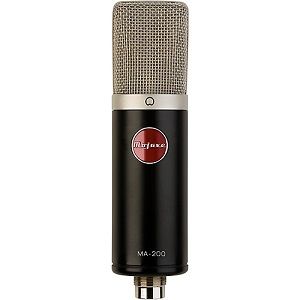 The MA-200 is a modern condenser microphone which has classic characteristics of some of the best-loved vintage European mics.
This mic was designed by David Royer, who drew inspiration from over two decades of experience and he delivered a tube driven condenser microphone that sounds like a well-maintained vintage studio mic.
These days I find a lot of discussions where producers and engineers compare the MA-200 with the legendary U87.
So seeing that makes it obvious that it's a really great mic.
However, if you're looking for a transparent mic then the MA-200 might be the right choice or not because it will add some coloration to your recording.
But most people have reported that they've got great improvements in their recordings, especially for acoustic guitars and vocals.
So this also gets my recommendation, and it's definitely worth the price.
3. Royer R-121 Ribbon Microphone

The R-121 has grown to be one of the most recommended mics for recording an acoustic guitar.
Due to its ability to reproduce fine details of high frequency sounds better, making it great for finger-pickers and strummers as well.
The genuine ribbon design allows you to capture high SPL sources like guitar amps.
Capture a Pure, Natural Sound!
NEWS: Royer Labs has been given a GRAMMY award for their outstanding ribbon mics! In the words of the Academy, these mics "were revolutionary and moved the art of recording forward."
4. Neumann TLM102

Since the TLM102 is light in weight, that makes it really easy to position and capture a great natural acoustic guitar sound.
If you've read my previous guide about vocal microphones then you already know that I highly recommend the Neumann TLM102.
This mic has a slight boost in the high-mids which results in a really crisp, clear and cutting sound that works really well with acoustic guitars.
And even though the TLM 102 is being sold as a vocal mic, its incredibly clear sound and transparency make it work exceptionally well with acoustic instruments.
It's a great pick if you want one of the clearest microphones on the market.
5. Rode NT2A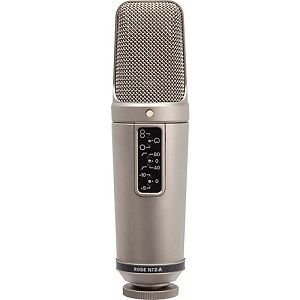 If you would like to capture the awesome natural sound for acoustic instrument at an affordable price, then the NT2A is a great choice for you.
The NT2A comes packed with accessories, including a shock mount, pop filter, mic cable and bag.
It is also a versatile mic that can work for vocals as well.
The NT2A allows you to easily switch between Omni, Cardioid and Figure 8 making this mic perfect for acoustic guitar recording.
It is also transparent which means it doesn't add color to your recording, resulting in a clean and clear guitar sound.
Midi Guitar Controllers Coming?
With technology moving so fast, I trust we'll have an acoustic guitar midi controller in the future. That will help us avoid testing 50 different microphones. But I hope you found the post useful and it makes it a lot easier for you to choose a good mic that will capture an awesome acoustic guitar sound.