Choosing the best microphone for recording vocals can be a daunting experience for a beginner.
Most people will choose a simple $100 microphone and wonder why their music can't compete or even worse, find it very hard to mix the vocals you just recorded.
That's why I recommend all studios to have at least 3 different microphones when recording.
1 microphone won't work for every vocalist you record in your studio. Some may require a mic that has more top end because that vocalist might have a low tone.
Another mistake the newbies make is to think: "I'll fix it in the mix". That's a terrible mindset, you'll never compete. Always get the best sound from the source, every audio engineer will tell you that.
So in order to get the best sound from the source, you have to get some really good mics and make sure that you get studio monitor headphones to avoid recording too much microphone bleed.
Here's a list of the best microphones for recording vocals.
1. Rode NT1A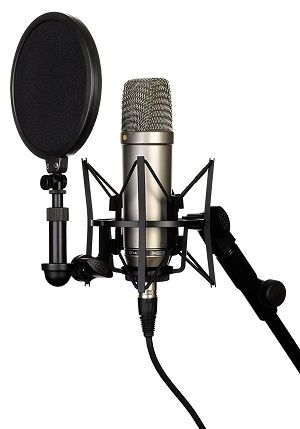 The Rode NT1-A has definitely become an industry standard.
It offers warmth, extended dynamic range, clarity and high SPL capability which is usually featured on the most expensive mics.
It's an incredible Condenser Microphone that comes packed with Essential Accessories.
The accessories include a studio grade pop filter, shock mount, premium cable, dust cover and Rode's industry leading 10 year warranty.
The NT1A also offers Ultra low noise which means you'll effortlessly capture clean and clear audio.
Great mic for vocal recording and delivers a proper sound that will compete with other commercial music.
2. Shure SM7B

This is a classic dynamic microphone which is well known for recording Michael Jackson's legendary "Thriller" album.
Shure SM7B has a flat and wide-range frequency response, which is perfect for close-miked spoken or sung vocals.
Great for recording music such as rock or metal where they use a screaming vocalist.
Its internal shock isolation will eliminate any transmission of mechanical noise.
It's also built tough which means it will last longer and it comes with a windshield to eliminate plosive sounds and sibilance.
The SM7B is brilliant classic microphone, sounds great and worth the price.
3. AKG Pro Audio C214

The AKG C214 is an outstanding mic with an incredible dynamic range and ultra-low noise for close-up recording of high-output sources.
It comes with a carrying case, windscreen and shock mount, too.
The C214 offers Highly-detailed and up-front sound for your vocals recordings.
It also reduces mechanical noise and resonances so that you get greater sonic accuracy.
AKG are well known for releasing the best microphones and if you're looking for a premium mic at an affordable price, the C214 will never disappoint.
4. Audio-Technica AT2035

The AT2035 is a large diaphragm Studio Condenser Microphone that comes bundled with a Shock Mount, Pop Filter and an XLR Cable.
The microphone has a really great top end which makes it an ideal mic for recording a male vocalist.
The AT2035 offers great sound pressure level (SPL) for loud noise and it will capture clear and crisp audio.
With the Audio-Technica AT2035, you'll definitely get awesome performance at an amazingly low price.
Great mic and it's worth every penny spent on it.
5. Neumann TLM 102

The Neumann brand is well known for producing great quality microphones, especially for vocal recording.
But their mics are in the $3000 price range.
However, with their new TLM series they've made it easy for home studio owners to afford the legendary Neumann sound at an affordable price.
The TLM 102 is a large-diaphragm microphone with cardioid directional characteristic.
It has a very high maximum sound pressure level which makes it easy to record loud/screaming vocals.
It has a really sparkling top end which helps vocals shine in mix.
If you're looking for a high-end mic at a good price then this is it.
Bottom Line
That's my list of the best Microphones for Recording Vocals whether you're a professional or complete beginner you'll definitely find or 2 mics that will work best for your projects.
Leave your comments below if you have any questions or would like to add some insight to this blog post.