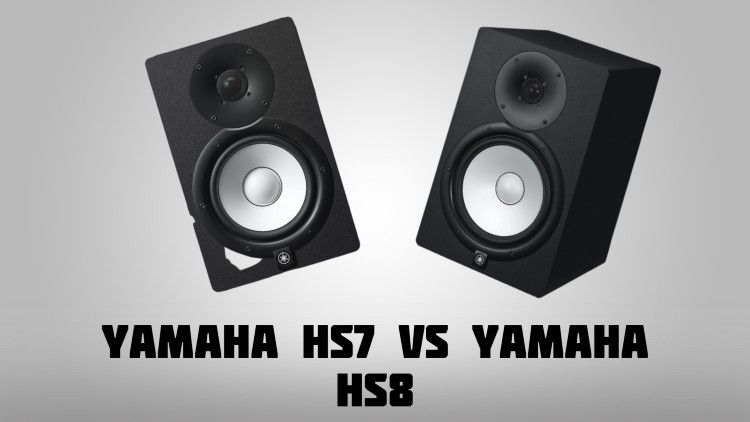 Yamaha seems to be one of those companies that can just produce anything, and we'll love it.
In the music kingdom, they have been a top supplier for years of:
Pianos
Drum kits
Studio Monitors
They even make some of the best motorbikes and car engines on the planet (seriously, how is one company good at so many things?)
The Yamaha HS range of studio monitors is no exception to this rule, which is undoubtedly why so many are drawn to the HS7 and HS8 models.
But the problem is, these two sets of monitors look pretty damn similar. So, what's the difference?
That's what we are going to explore here.
Here's what we'll cover in this Yamaha HS7 vs Yamaha HS8 comparison:
Overall speaker design
Cabinet design and build
Finish options
Speaker
Amplifier
Inputs and controls
Sound profile and frequency range
Price & Value For Money
Pros & Cons
Ready? Let's get started…
Main Differences: Yamaha HS7 and Yamaha HS8
The main differences between Yamaha HS7 and Yamaha HS8 are:
The HS7 has a 6.5-inch woofer, while the HS8 as an 8-inch one
The total power output of the HS7 is 95W (LF:60W, HF:35W). For the HS8, it's 120W (LF:75W, HF:45W)
The HS8 has a better bass response, reaching down to 38Hz. The HS7 only reaches 43Hz in the low end
So when it comes down to Yamaha HS7 vs Yamaha HS8, which one should you choose? Here's a quick overview:
Go for Yamaha HS7 if you're looking for a capable, fairly flat nearfield monitor for your home studio. We'd recommend choosing the HS7 over the HS8 in untreated or less than ideal acoustic spaces, as low-end is typically problematic in these kinds of environments.
Go for Yamaha HS8 if you have a well-treated room, and want to get away with a set of near or midfield monitors that don't require a sub. You can tweak the high and low-frequency response of the HS8s to suit your room, too.

1. Overall speaker design: Yamaha HS7 vs Yamaha HS8
What the Yamaha HS range IS
There is a tonne of different monitor options out there, and not all of them are designed for the same purpose and use.
So, what are Yamaha HS monitors good for?
The HS range is designed as a nearfield monitor, for use at home or in your music studio.
If you're new to these terms, let's break it down:
Nearfield monitors sit close to the mixing position. They are typically placed around 3-6 ft from the mix position.
Midfield monitors are bigger, often have big woofers or even more than one woofer, and are placed 6-12ft away
Farfield monitors are your big boys that are typically only used in pro-level recordings studios (because they are huge and expensive). These are often mounted inside the front wall of your mixing room.
The HS range is mainly designed as a nearfield monitor.
They are also positioned as affordable monitors for home studio users. That means that Yamaha isn't expecting you to use these monitors in a top-tier studio with thousands of dollars of acoustic treatment (though a little bit wouldn't hurt you).
What the Yamaha HS range ISN'T
One thing you'll see a lot of online when researching the Yamaha HS7 or HS8 is comparisons to the legendary Yamaha NS10M monitors.
Yamaha themselves even make reference to the 1970s icon when discussing the HS range design, though they don't explicitly mention the NS10s.
This has led to many believing that the HS range is a modernized reproduction of the NS10, which it simply is not.
Let me explain:
The Yamaha NS10M was designed and released in the late 1970s as a hi-fi speaker, not a studio monitor.
It was averagely successful at best, but studio engineers started to use the NS10 as a reference monitor to see how their mixes would sound on an average sound system that your average listener would own.
This is much the same as checking your mix today on a Bluetooth speaker or on your AirPods.
The rise in popularity of the NS10M led Yamaha to release the NS10M Studio, which is pretty much the same except it's designed to be mounted horizontally rather than vertically, making it easier for engineers to lay them flat at the top of their mixing desks.
Over time and as the quality of hi-fi consumer-focused speakers improved, the logic among sound engineers moved from "This is what people are actually listening on" to "These speakers suck. If you can make a mix sound good on NS10s, it'll sound good on anything."
And that's what they've been used forever since.
The Yamaha HS range, however, is not that.
The HS7 and HS8 are designed to be relatively flat across the frequency range, to be honest and transparent, and to not hype up your mix in the top-end or to pump out excessive bass.
This is true. But this is true of all studio monitors (it's what makes them studio monitors as opposed to consumer speakers), and it is NOT true of the NS10 (which is an incredibly shaped and mid-focused monitor).
So, Yamaha HS ≠ new Yamaha NS.
Overall speaker design: Bottom Line
All of this said the Yamaha HS range is ideal for bedroom music producers and aspiring sound engineers alike.
They are affordable, transparent, listenable, and pretty sharp in the looks department as well.
Okay, let's take a look at some details then.
Overall speaker design Winner: Tie

2. Cabinet design and build: Yamaha HS7 vs Yamaha HS8
Cabinet materials
Both monitor designs use high-density MDF to house the speakers, which helps to dampen the speaker response and reduce boominess and internal resonance.
The interior corners of the HS speakers use a three-way mitered-joint technique, borrowed from Yamaha's own piano technology.
Bass reflex port
Both the HS7 and the HS8 use a rear-firing bass reflex port to maximize low-frequency efficiency. This newly designed port cuts unwanted noise by about 6dB compared to previous Yamaha monitors.
You'll also find a heat-sink on the rear of each monitor to keep the internal amplifiers from overheating.
Cabinet sizes and weights
It's unsurprising that the cabinet of the HS8 is bigger and heavier than the HS7. Here's what you're dealing with:
Yamaha HS7

Yamaha HS8

Dimensions

W 210mm (8.3″)

H 332mm (13.1″)

D 284mm (11.2″)

W 250mm (9.8″)

H 390mm (15.4″)

D 334mm (13.1″)

Net weight

8.2kg (18.1 lbs.)

10.2kg (22.5 lbs.)
There are really no winners here. Both sets of monitors use the same design methodology, the only difference being size and weight due to a larger bass driver used in the HS8.
Cabinet design and build Winner: Tie

3. Finish options: Yamaha HS7 vs Yamaha HS8
Colors
Whether you decide to go with the HS7 or the HS8, you'll be given the choice of two finishes: black, and white.
Both color variants use white speaker cones, typical of Yamaha, so you either get white on black or white on white.
Finish
Both the white and black versions of the Yamaha HS series are finished with a fine veneer that covers the MDF construction.
It's a grippy mate finish, as opposed to a sleek piano black or white.
Finish options: Bottom Line
No winners here; both the HS7 and HS8 offer the same finish options.
Finish options Winner: Tie

4. Speaker: Yamaha HS7 vs Yamaha HS8
Speaker: Yamaha HS7
The Yamaha HS7 is a 2-way monitor, meaning it has two speakers inside of it.
One of which takes care of high-frequency duties, and the other deals with the low frequencies. Well, that's the theory, anyway.
In reality, both will take care of a little bit of the mids as well.
In the HS7, you've got an ultra-responsive 6.5-inch woofer with large magnets that produce minimal distortion.
This is paired with a 1-inch tweeter, which crosses over at 2kHz. This means that the tweeter is taking care of quite a significant chunk of the frequency range, allowing the woofer to deliver solid, punchy bass that doesn't get flabby toward the low end.
We'll discuss soon what this means for the sound of the HS7.
Speaker: Yamaha HS8
The Yamaha HS8 uses the same concept as the HS7, utilizing a 1-inch dome tweeter and a freshly designed woofer, crossing over at 2kHz.
The only difference here is that the HS8 has an 8-inch woofer rather than a 6.5-inch one, which means it can reach a bit lower in the frequency range.
More on that soon.
Speaker: Bottom Line
The key difference between the speakers in the HS7 and the HS8 is that the HS8 has a big woofer. But bigger doesn't always mean better, it just means suited for different purposes.
As we'll discuss soon, untreated rooms tend to fare better with smaller monitors, whereas large and/or well-treated acoustic spaces can get away with the extra low end.
So, this one really comes down to your intended use.
Speaker Winner: Tie

5. Amplifier: Yamaha HS7 vs Yamaha HS8
Amplifier: Yamaha HS7
The Yamaha HS7 is a bi-amped monitor, meaning it uses two amps, one for each speaker.
These amplifiers are specifically designed by Yamaha to match the speakers it uses in the HS7.
In terms of power, you're getting 60 watts to the woofer and 35 to the tweeter for a total of 95 watts.
Amplifier: Yamaha HS8
As you're probably expecting, the Yamaha HS8 using the same amplifier style as the HS7. However, the power of the amps inside the HS8 differs, delivering 75 watts to the woofer (needed to drive the extra size) and 45 watts to the tweeter to balance things out.
Amplifier: Bottom Line
So, the amps in the HS8 are more powerful, but that doesn't mean that they are necessarily better.
More accurately, the increase in wattage is required to drive the bigger speaker, so it's fair to say that each monitor has amplifiers that are perfectly suited to its needs.
Another tie!
Amplifier Winner: Tie

6. Inputs and controls: Yamaha HS7 vs Yamaha HS8
Inputs
Both the HS7 and HS8 offer analog inputs on either XLR or TRS jack, allowing you to choose between a balanced and an unbalanced connection.
This will largely be decided by the outputs on the interface or mixer you're using, of course.
Controls
The HS series of monitors have a pretty cool set of controls on the rear, allowing you to set up your HS7s or HS8s to suit your room.
You get your standard level control (which you'll set and forget), but you also get a couple of EQ controls.
The first deals with the bass end of the frequency spectrum, specifically below 500Hz. This switch allows you to filter out frequencies below this point, reducing them by either 2dB or 4dB.
On the high-frequency range, you can choose to engage a high-shelf, which goes either +2dB or -2dB and beings at 2kHz.
Inputs and controls: Bottom Line
This one's a flat tie, as both monitors offer the same complement of inputs and controls.
Inputs and controls Winner: Tie

7. Sound profile and frequency range: Yamaha HS7 vs Yamaha HS8
So, for all of the similar tech specs, what do these monitors actually sound like?
Sound profile and frequency range: Yamaha HS7
The HS7 has a nice flat and honest sound profile. It's not particularly hyped in any area and allows you to identify any flaws in your mix.
In essence, it offers the kind of sound profile you'd want from a studio monitor.
The frequency range on offer is 43Hz – 30kHz, which in reality is a bit of a gimmick as we can't hear above 20kHz anyway. But hey, maybe your dog will enjoy it.
What you will note though is that the HS7 doesn't extend right down to the bottom of the human hearing range, which typically gets down to around 20Hz.
What this means is that if you're mixing bass-heavy music like dubstep or house, or otherwise have a strong need to hear that last octave or so, then you're going to need a subwoofer.
Sound profile and frequency range: Yamaha HS8
The Yamaha HS8 sounds pretty much the same as the HS7, but with a stronger bass response, extending down to 38Hz.
That extra 5Hz isn't a whole lot more, so to be fair, the same comment goes for you bass heads, though you'll certainly notice that the HS8 does get a bit deeper.
Sound profile and frequency range: Bottom Line
This is an interesting one.
Though the HS8 offers more bass, I'm actually going to suggest that the HS7 is a better monitor for its lack of low-frequency extension.
There are two reasons for this. Firstly, the HS8 only gets an extra 5Hz, so if you really want subs, you're going to have to get a sub anyway, in which case you might as well grab the HS7s and let them focus more on the mids.
Secondly, most users of the Yamaha HS range of monitors are going to be home studio owners and bedroom music producers. What this means is that you'll be working in an environment that is too small for that kind of bass to really breathe, and your space probably isn't very well treated on the acoustics front (if at all).

So, all things considered, the HS7 has it.
Sound profile and frequency range Winner: Yamaha HS7

8. Price & Value For Money: Yamaha HS7 vs Yamaha HS8
Price & Value For Money: Yamaha HS7
A pair of HS7s will set you back $850, which is pretty reasonable for nearfield studio monitors.
Compare that to a set of Genelec 8040Bs (a sort of industry-standard nearfield monitor), which go for $2600 a pair, and you'll see what I mean.
Price & Value For Money: Yamaha HS8
The HS8s are closer to $1100 for a pair, which seems about right for the bigger woofers.
You'll pay $4200 for the larger Genelec 8050Bs, so it's safe to say that Yamaha is cutting you a nice deal here.
Price & Value For Money: Bottom Line
Given that we've recommended the Yamaha HS7 as the better monitor for home studio use, and it's cheaper, it's clearly the winner when we consider value for money as well.
Price & Value For Money Winner: Yamaha HS7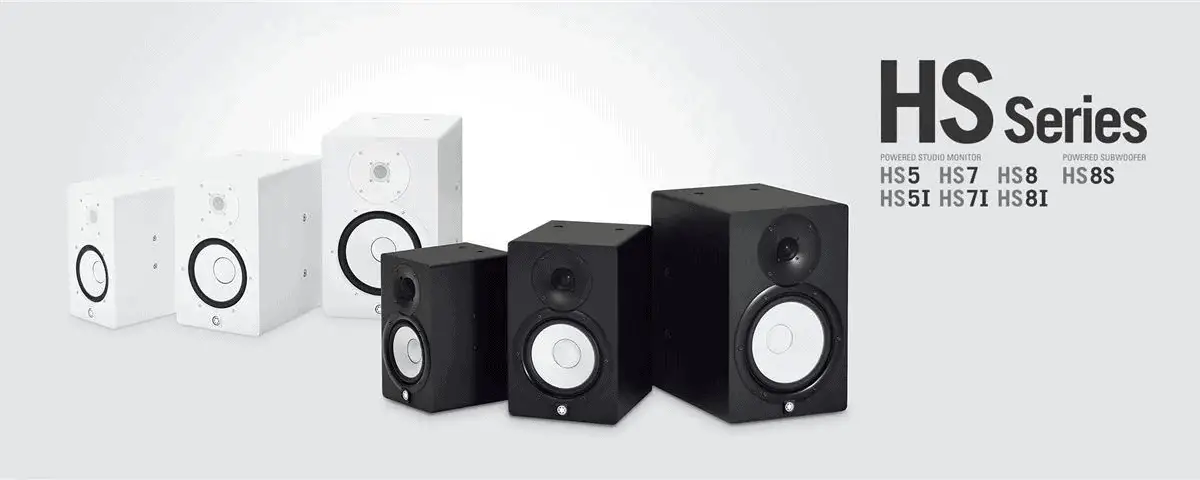 9. Pros & Cons: Yamaha HS7 vs Yamaha HS8
Yamaha HS7 Pros & Cons
Pros:
Not too aggressive in the low end (good for untreated rooms
Sleek design
Low and high-frequency tuning to suit your room
Cons:
Doesn't go too low in the frequency response, so less well-suited to bass-heavy music
Yamaha HS8 Pros & Cons
Pros:
Solid bass response
Sleek design
Low and high-frequency tuning to suit your room
Cons:
Can be a bit too boomy and bassy for untreated rooms
Conclusion & Takeaway
To summarize our findings in this Yamaha HS7 vs Yamaha HS8 comparison, here are the winners for each category:
Overall speaker design – Tie
Cabinet design and build – Tie
Finish options – Tie
Speaker – Tie
Amplifier – Tie
Inputs and controls – Tie
Sound profile and frequency range – Yamaha HS7
Price & Value For Money – Yamaha HS7
Overall: Yamaha HS7
To sum things up, either set of Yamaha monitors is going to do you well, whether you're a bedroom producer or you're setting up a small studio.
They aren't going to leave you counting pennies either, compared to other nearfield studio monitors on the market.
If you're working in a small or untreated room, then we'd recommend going with the HS7s as you're going to face fewer issues on the bass front.
If you've got a big space that's well treated, then the HS8s might be a better fit, though they still don't extend all the way to 20Hz. In that case, you might consider combining the HS7s with a sub (Yamaha have a nice one in their HS range that plays nicely with the HS7s.)
https://www.youtube.com/watch?v=QjcU2RHAeTg 
Product Links:
Products Comparison Table:
Spec / Feature

Yamaha HS7

Yamaha HS8

Speaker type

2-way bi-amp powered studio monitor

2-way bi-amp powered studio monitor

Frequency range (-10dB)

43Hz – 30kHz

38Hz – 30kHz

Components

6.5″ cone, 1″ dome

8″ cone, 1″ dome

Crossover

2kHz

2kHz

Output power

95W (LF:60W, HF:35W)

120W (LF:75W, HF:45W)

I/O connectors

XLR3-31 type (balanced), PHONE (balanced)

XLR3-31 type (balanced), PHONE (balanced)

Power consumption

55W

60W

Shape

Bass-reflex type

Bass-reflex type

Cabinet material

MDF

MDF

Dimensions

W 210mm (8.3″)

H 332mm (13.1″)

D 284mm (11.2″)

W 250mm (9.8″)

H 390mm (15.4″)

D 334mm (13.1″)

Net weight

8.2kg (18.1 lbs.)

10.2kg (22.5 lbs.)

Controls

LEVEL control (+4dB/center click) , EQ: HIGH TRIM switch (+/- 2dB at HF) / ROOM CONTROL switch (0/-2/-4 dB under 500Hz)

LEVEL control (+4dB/center click) , EQ: HIGH TRIM switch (+/- 2dB at HF) / ROOM CONTROL switch (0/-2/-4 dB under 500Hz)

Input sensitivity

-10 dBu/10k ohms

-10 dBu/10k ohms

Indicators

Power ON (White LED)

Power ON (White LED)